Waste and material resources
Page
Last modified 03 Jun 2016, 03:32 AM
Waste is a pressing environmental, social and economic issue. Increasing consumption and a developing economy continue to generate large amounts of waste - with more effort required to reduce and prevent it. While waste was viewed as disposable in the past, today it is increasingly recognised as a resource; this is reflected in the waste management shift away from disposal towards recycling and recovery.
Depending on its management, waste may impact both human health and the environment through emissions to air, soil, surface water and groundwater. But it can also represent loss of material resources (through metals and other recyclable materials), and has potential as an energy source.
Waste is generated at all stages of the materials life cycle:
extraction (mining waste);
production and distribution (industrial, hazardous and packaging waste);
consumption of products and services (municipal, and electric and electronic equipment waste);
treatment (e.g. sorting residues from recycling facilities, or incinerator slag).
Sound management of waste can protect public health and benefit the environment whilst supporting conservation of natural resources.
Around 5.2 tonnes of waste per capita were generated in 2008 in the EU. The largest waste streams in Europe originate from construction and demolition, mining and quarrying, along with manufacturing activities. Every EU citizen on average throws away 444 kg of household waste per year, and this figure is expected to increase.
Previously, growing consumption and the trend towards smaller households were strong drivers of municipal waste generation. But these factors appear to be decoupling from municipal waste generation: per capita municipal waste generation in the EU-27 stabilised from 1999 to 2010. Member States differ greatly in terms of both their development of waste generation and its size.
The EU has seen a clear shift in waste management. In 2010, a large share (37%) of municipal solid waste (which represents 10% of the total waste generated in the EU) was still landfilled. Today the trend is to recycle/compost (38%), or incinerate with energy recovery (21%) instead, for different waste streams.
Recycling benefits the environment by diverting waste away from landfill, thereby reducing pollutant emissions. It also helps meet the material demands of economic production, curtailing the need for extraction and refining of virgin materials.
Recycling also offers important economic and social benefits: it generates economic growth, fosters innovation, generates employment, and helps secure availability of critical resources. Recycling is vital for a major European and global policy priority: the shift to a green economy that generates prosperity while maintaining a healthy environment and social equity for current and future generations.
EU waste directives discourage landfilling and promote the recycling/recovery of waste. Another driver for the increasing economic importance of recycling is the upsurge in demand for materials, especially in booming Asian economies.
EU policies
The more recent EU legal instruments and strategies prioritise waste prevention, i.e. decoupling waste generation from economic growth and environmental impacts. Examples are the revised Waste Frame­work Directive (WFD) (2008/98/EC), the Thematic Strategy on the prevention and recycling of waste and the 6th Environmental Action Programme (EAP).
The WFD provides the general framework for waste prevention and management in the EU. It introduces and defines basic concepts and lays down waste management principles such as the waste hierarchy (Fig. 1), where waste prevention is the preferred option.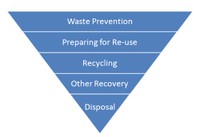 Figure 1: Waste hierarchy
The WFD obliges Member States to establish waste prevention programmes no later than 12 December 2013. The EEA is invited to review country progress in completing and implementing such programmes.
The WFD sets ambitious recycling targets for paper, metal, plastic and glass waste from households as well as for construction and demolition waste.
EU legislation also sets stringent requirements for landfills and incinerators: most waste treatment activities are regulated by the Landfill Directive (1999/31/EC), the Waste Incineration Directive (2000/76/EC), and the Industrial Emissions Directive (2010/75/EU). For special waste streams (e.g. packaging waste, end-of-life vehicles and waste electrical and electronic equipment), the waste hierarchy has been translated into concrete targets for recycling and/or recovery.
A life-cycle approach in policymaking ensures that impacts are assessed from cradle to grave; and avoids 'hiding' impacts by moving them to other countries or stages of production/consumption.
EEA activities
The EEA's waste assessments aim to support the development of policies for sustainable consumption and production, including the implementation of thematic strategies on sustainable use of natural resources, on waste prevention and on recycling, and of the Roadmap to a Resource Efficient Europe.
Activities include:
The EEA's sustainable consumption and production group leads the agency's work on waste. Activities are implemented through cooperation with the EEA's European Topic Centre on Sustainable Consumption and Production (ETC/SCP) and in collaboration with EEA's country network, Eionet. Eurostat is collecting waste data; it has hosted the Environmental Data Centre on Waste since 2008.
Outlook
The EEA will support the European Commission and European Parliament as well as EEA member and cooperating countries with a number of new waste indicators and a concept for reviewing waste prevention programmes. It will also finalise recent analysis on landfill taxes, transboundary shipments of waste as well as the resource potential for critical metals in e-waste in Europe. These activities will contribute to a better implementation of waste policies in the EU. Waste is also one of the high priority areas in the EEA's international cooperation projects with European neighbourhood countries.
Permalinks
Permalink to this version

Permalink to latest version