Energy
Subtopics
Progress in energy conservation and renewable energy sources is determinant for the transition towards a prosperous, sustainable and climate-compatible European economy
Our quality of life depends, among other things, on a reliable supply of energy at an affordable price. But energy production and use place significant pressures on the environment, as we chiefly rely on fossil fuels and waste a substantial part of this energy before and during use. Energy activities give rise to greenhouse gas and air pollutant emissions, land use, waste generation and oil spills, contributing to climate change, damage of natural ecosystems and of the built environment, and adverse effects on human health. We therefore need to consume less energy and step up the clean energy transition that is already unfolding across Europe.
The increased use of renewable electricity across the European Union has not only reduced pressures linked to climate change, but also to air and water pollution (particulate matter formation, eutrophication and acidification), according to a European Environment Agency (EEA) briefing published today. More targeted actions can help minimise the negative environmental effects of boosting renewable electricity supply.
Despite clear benefits, like cheaper energy and access to new resources, only a few European countries have embarked on cross-border renewable energy projects. Building on the experience of those countries is crucial for the success of future cross-border projects, according to a new European Environment Agency (EEA) briefing released today.
Thanks to steady improvements in emission reductions and renewables uptake, the European Union is likely to achieve two of its three 2020 climate and energy targets, namely reducing greenhouse gas emissions and boosting renewable energy, according to the European Environment Agency's (EEA) Trends and Projections report published today. Achieving the third target — reducing energy consumption — still looks unclear.
Published
: 20 Jan 2021
We need to invest in a green recovery to restart the economy. The European Green Deal puts climate change mitigation at the core of its efforts to recover sustainably from the COVID-19 crisis. Renewable electricity could increase to 70% of all power generation by 2030 to allow a net 55% reduction in greenhouse gas emissions by 2050. Despite multiple benefits for human health and the environment associated with the reduction in fossil fuel use for energy, increasing renewable power supply is not impact free. Concerns have been raised that renewable electricity could shift environmental burdens in ways that do not always lower overall pressures. This briefing investigates changes in the electricity mix since 2005, and their trade-offs from a life cycle perspective to help policymakers and individuals focus on areas that offer opportunities for improvement.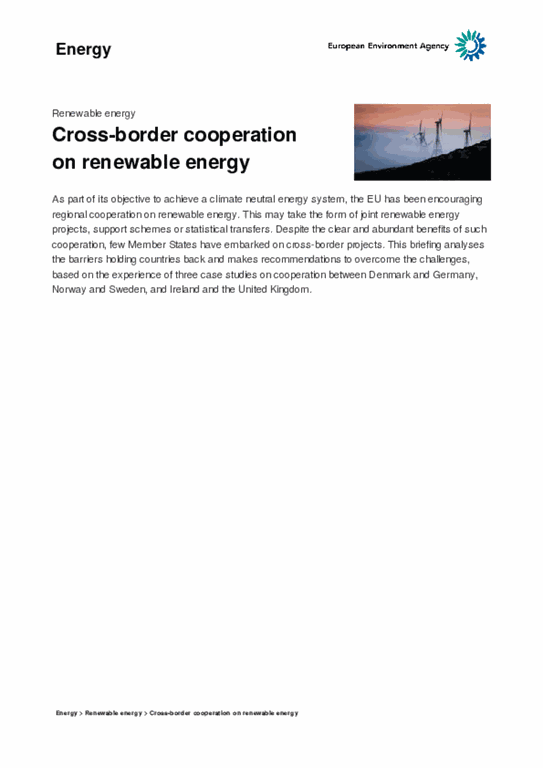 Published
: 18 Dec 2020
This briefing looks at the challenges posed by cross-border cooperation on renewable energy. It analyses the barriers holding countries back and makes recommendations to overcome the challenges, based on the experience of three case studies on cooperation between Denmark and Germany, Norway and Sweden, and Ireland and the United Kingdom.