Air pollution
Subtopics
Air pollution is the biggest environmental health risk in Europe
Air pollution is hard to escape, no matter where you live. It can seriously affect your health and the environment. Even though air quality in Europe has improved over recent decades, the levels of air pollutants still exceed EU standards and the most stringent World Health Organization guidelines.
Given their proximity to citizens and knowledge of local concerns, local authorities are best placed to ensure we make an effective transition to more liveable and breathable cities.
Many city-specific measures have proved to be efficient but there is still much to do to empower citizens further and deliver coordinated actions across all governance levels.
European Air Quality Index
How clean is the air you're breathing right now? How does the air in your city compare with that of a neighbouring city or region? Air pollution is the single largest environmental health risk in Europe. The European Environment Agency's European Air Quality Index allows users to understand more about air quality where they live. Displaying up-to-the-minute data for the whole of Europe, users can gain new insights into the air quality of individual countries, regions and cities.
Air and noise pollution, the impacts of climate change such as heatwaves, and exposure to dangerous chemicals cause ill health in Europe. Poor quality environments contribute to 13 % (one in every eight) of deaths according to a major assessment on health and environment released today by the European Environment Agency (EEA).
Emissions of the five most harmful air pollutants, including particulate matter (PM), nitrogen oxides (NOx) and ammonia (NH3) reduced across the European Union between 2017 and 2018 according to updated data published today by the European Environment Agency (EEA). The data is from the annual EU emission inventory report sent to the UNECE Air Convention (Convention on Long-range Transboundary Air Pollution - CLRTAP).
In 2018, the European Union met all air pollution limit ceilings set for total emissions of the four key pollutants monitored under EU rules. Emissions of ammonia levelled off after five years of increases, according to updated data released by the European Environment Agency (EEA) today.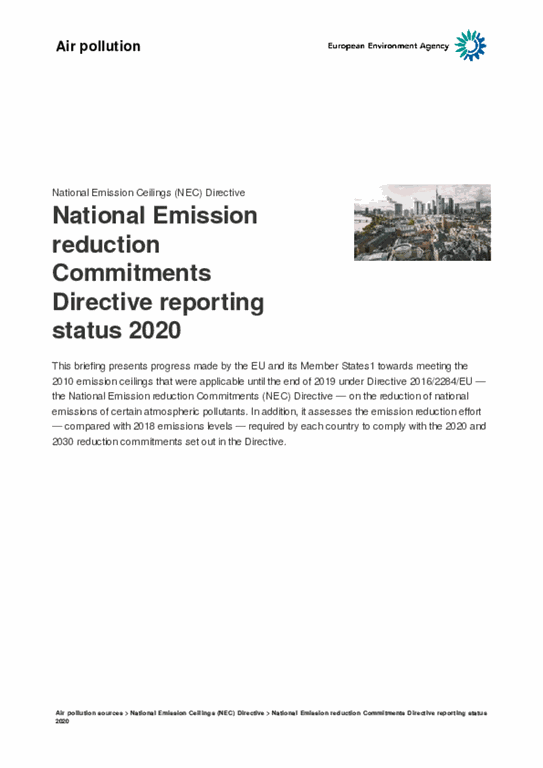 Published
: 30 Jun 2020
This briefing presents progress made by the EU and its Member States1 towards meeting the 2010 emission ceilings that were applicable until the end of 2019 under Directive 2016/2284/EU — the National Emission reduction Commitments (NEC) Directive — on the reduction of national emissions of certain atmospheric pollutants. In addition, it assesses the emission reduction effort — compared with 2018 emissions levels — required by each country to comply with the 2020 and 2030 reduction commitments set out in the Directive.