Transport
Subtopics
Towards a more sustainable transport system
Transport underpins our society. It connects people, cities, countries and economies, fostering growth and employment. Nevertheless, transport remains a major source of environmental pressures in Europe, accounting for more than a fifth of greenhouse gas emissions, most of which are generated by road transport.
Air pollution is the biggest environmental health threat in Europe and more and more people are taking action to claim their right to clean air. A new European Environment Agency (EEA) report provides an overview of low-cost devices that citizens and NGOs can use to measure local air quality.
Emission cuts in the European Union's (EU) Effort Sharing sectors need to accelerate considerably from 2018 onwards to achieve the current EU 2030 targets, according to a European Environment Agency (EEA) briefing, published today. In particular, the large amount of emission reductions from planned measures in the transport sector need to materialise through concrete actions.
At least one in five Europeans are currently exposed to noise levels considered harmful to their health, according to the European Environment Agency's (EEA) environmental noise pollution report published today. This number is projected to increase in the years ahead.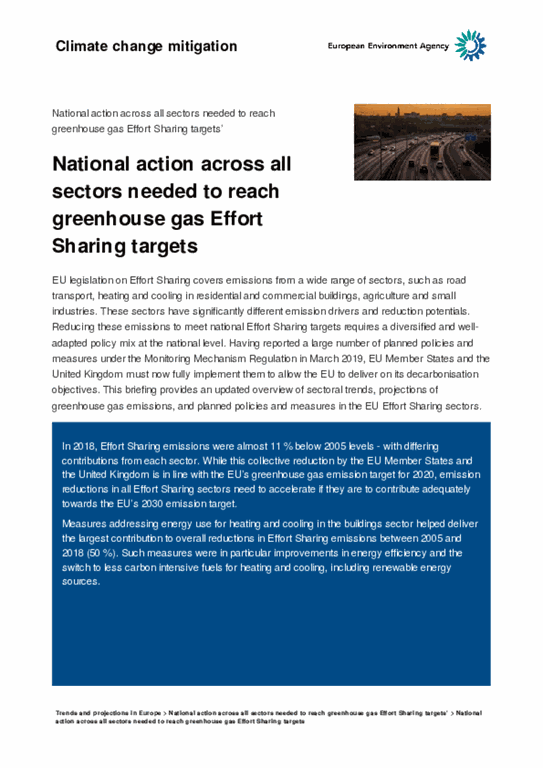 Published
: 10 Mar 2020
EU legislation on Effort Sharing covers emissions from a wide range of sectors, such as road transport, heating and cooling in residential and commercial buildings, agriculture and small industries. These sectors have significantly different emission drivers and reduction potentials. Reducing these emissions to meet national Effort Sharing targets requires a diversified and well-adapted policy mix at the national level. Having reported a large number of planned policies and measures under the Monitoring Mechanism Regulation in March 2019, EU Member States and the United Kingdom must now fully implement them to allow the EU to deliver on its decarbonisation objectives. This briefing provides an updated overview of sectoral trends, projections of greenhouse gas emissions, and planned policies and measures in the EU Effort Sharing sectors.