Air pollution
Subtopics
Air pollution is the biggest environmental health risk in Europe
Air pollution is hard to escape, no matter where you live. It can seriously affect your health and the environment. Even though air quality in Europe has improved over recent decades, the levels of air pollutants still exceed EU standards and the most stringent World Health Organization guidelines.
European Air Quality Index
How clean is the air you're breathing right now? How does the air in your city compare with that of a neighbouring city or region? Air pollution is the single largest environmental health risk in Europe. The European Environment Agency's European Air Quality Index allows users to understand more about air quality where they live. Displaying up-to-the-minute data for the whole of Europe, users can gain new insights into the air quality of individual countries, regions and cities.
Air pollution is a serious problem in many European cities, posing a real risk to health. Today, the European Environment Agency (EEA) launched the European city air quality viewer. You can check how the air quality has been over the past two years in the city where you live and compare it with other cities across Europe.
Average emissions from new passenger cars in Europe increased for the third consecutive year in 2019, reaching 122.3 grams of carbon dioxide per kilometre (g CO2/km), according to the European Environment Agency's (EEA) final data. Data about newly registered vans show a stable trend. New EEA data set baseline for emission reductions in heavy-duty vehicles.
More than 100 schools from 8 European countries participated in the citizen science CleanAir@School inititative, organised by the European European Agency (EEA) and the European Network of the Heads of Environmental Protection Agencies. The results of the initiative, published today, describe how schoolchildren measured pollution levels, learned about air quality and promoted actions for cleaner air.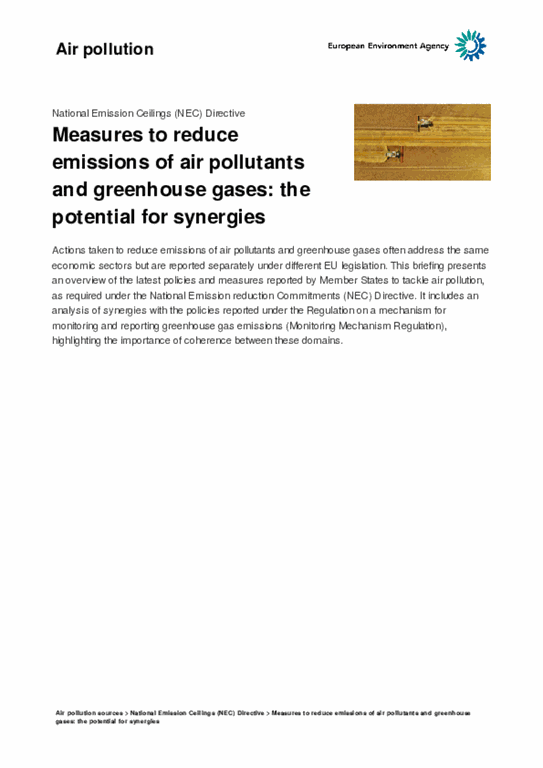 Published
: 10 Dec 2020
This briefing presents an overview of the latest policies and measures reported by Member States to tackle air pollution, as required under the National Emission reduction Commitments (NEC) Directive. It includes an analysis of synergies with the policies reported under the Regulation on a mechanism for monitoring and reporting greenhouse gas emissions (Monitoring Mechanism Regulation), highlighting the importance of coherence between these domains.