Forests
Europe is one of the most forest-rich regions in the world. The area covered by forest has increased over the last century and has remained stable for the last decade. Forests constitute the largest terrestrial ecosystem of Europe and are one of Europe's most important renewable resource.
FISE is an entry point for sharing information with the forest community on Europe's forest environment, its state and development. FISE brings together data, information and knowledge gathered or derived through key forest-related policy drivers.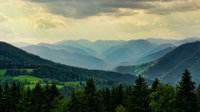 Forests used to constitute the dominant natural vegetation in most of Europe, covering up to 80 % of the land surface. However, the current extent and condition of forest ecosystems are the result of the process of human appropriation (domestication), which started more than 5000 years ago. By the end of the 17th century, more than half of Europe's original forest had disappeared and covered just a few percent of the total land area in countries such as Denmark or Ireland. In response to forest depletion, stricter forest management practices emerged to replant, protect and maintain forest cover and the multi-functionality of forests in terms of wood production and protection against, for example, soil and wind erosion.
Permalinks
Permalink to this version

Permalink to latest version

Topics