Signals 2017 – Shaping the future of energy in Europe: Clean, smart and renewable
Page
Last modified 23 Nov 2020
The European Environment Agency (EEA) publishes Signals annually, providing a snapshot of issues of interest to the environmental debate and the wider public. Signals 2017 focuses on energy.
(c) Dimitri Anikin / Flickr

Our quality of life depends, among other things, on a reliable supply of energy at an affordable price. We still burn fossil fuels to obtain most of the energy we use and combustion of fossil fuels affects us all in one way or another. It releases air pollutants into the atmosphere and harms our health. It also releases greenhouse gases and contributes to climate change.
We are at a critical decision point in time: the negative impacts of our current energy choices on the one hand, and the opportunities that clean energy sources offer on the other. Signals 2017 looks into Europe's transition towards clean, smart and renewable energy.
Articles
Energy in Europe — State of play
European countries consume less energy compared with 10 years ago, mainly due to energy efficiency gains. Europe also relies less on fossil fuels due to energy savings and the faster-than-expected uptake of renewable energy.
Mitigating and adapting to climate change are key challenges of the 21st century. At the core of these challenges is the question of energy...
Making clean renewable energy happen
Investing in clean energy must go hand in hand with energy efficiency and energy savings. Innovative solutions can fundamentally change the way we produce, store, transport and use energy.
Interview — Energy efficiency benefits us all
Potential gains from improving energy efficiency are substantial — not only in terms of saving energy and combating climate change, but also in terms of contributing to an array of other co-benefits, including improving human health and creating jobs.
Global and local: secure and affordable energy
Energy is a commodity traded in global markets. Lack of access to affordable energy sources, disruptions in energy flows, high import dependency and wild fluctuations in prices are all seen as potential weaknesses, impacting the economy and, consequently, the economic and social wellbeing of the communities affected.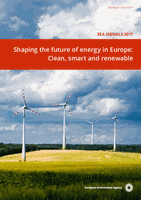 Title: Signals 2017 – Shaping the future of energy in Europe: Clean, smart and renewable


Linguistic version

Media/Volume

Catalogue number

ISSN

DOI

EN

HTML/Volume_01



TH-AP-17-001-EN-Q

2443-7662

10.2800/63764
Permalinks
Permalink to this version

Permalink to latest version
Geographic coverage

Topics