Environmental management
Page
Last modified 04 Jun 2020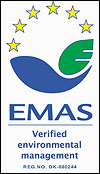 As an organisation we recognise that managing Europe's environment begins with mitigating the environmental impact of our actions at home and in the workplace. In 2004, this philosophy saw us become the first EU body to introduce an environmental management system. The following year, the EEA registered its environmental management system under the EU Eco-Management and Audit Scheme (EMAS).
As of 2014, we are part of a family of 4 049 organisations and 7 556 sites that are EMAS registered worldwide. Our environmental management system is an integral part of our management plan and is designed to make environmental responsibilities clear to employees.
As such, we have an environmental policy that highlights our vision to be a climate friendly and resource efficient organisation. Moreover, our annual environmental statement outlines our commitment to EMAS and presents our environmental performance.
We continue to meet the requirements of EMAS, as demonstrated by our most recent verification certificate for 2018 and our latest registration certificate.
We welcome enquiries on our environmental management system and how to introduce a similar system in any organisation. If you have any questions, please post your query in the EEA Enquiries Forum.
Permalinks
Permalink to this version

Permalink to latest version
Geographic coverage
Tags