Environmental management (EMAS)
Page
Last modified 28 Oct 2022
The European Environment Agency (EEA) is raising its climate ambition. We are aiming to become a climate neutral organisation and supporting other European agencies on the path to sustainability.
On the path to a climate neutral EEA
All sectors of the economy — as well as EU bodies and institutions — will need to contribute to Europe's ambition to become the first climate-neutral continent by 2050. With this in mind, the EEA has embraced the EU's climate objectives and we are fully committed to taking action, in line with the key messages we communicate externally.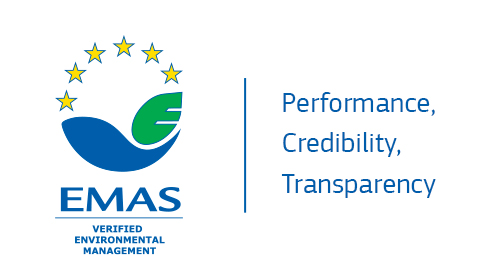 In 2004, we introduced an environmental management system, which was registered under the EU Eco-Management and Audit Scheme (EMAS) the following year. Since then, we have undertaken climate actions, such as procuring renewable energy and offsetting emissions from the work-related travel of staff and visitors to our premises. In 2021, we will raise our climate ambition further, aiming to become a climate neutral organisation and supporting other European agencies on the path to sustainability (EEA environmental policy 2022).
Our environmental commitment 
As an organisation, we recognise that managing Europe's environment begins with mitigating our own environmental impact. Our EMAS certified environmental management is an integral part of our management plan and is designed to make environmental responsibilities clear to management and staff members.
The annual environmental statement outlines our commitment to EMAS and presents our environmental performance in the areas of: 
electricity use;
energy for heating;
water consumption;
paper consumption;
waste generation;
CO2 emissions from business travel.
We continue to meet the requirements of EMAS, as demonstrated by our most recent verification certificate for 2020 and our latest registration certificate.
We welcome enquiries on our environmental management system and how to introduce a similar system in any organisation.  If you have any enquiries, please look into the interview in our Newsletter 2021 'Improving environmental performance in organisations' or ask your questions using our online form.
Please note the EEA's new donation policy:
In an effort to give IT and office equipment that is no longer used at the EEA a second life, the EEA has adopted a new donation policy.
If you are an association, NGO or local authority, and would like to be notified when the EEA is donating used IT and/or office equipment, have a look at these documents, and express your interest!
The call will be open until October 2027.
Permalinks
Permalink to this version

Permalink to latest version
Geographic coverage
Tags