Mismanaged waste — a key source
Page
Last modified 19 Jan 2023
The majority of marine litter is mismanaged plastic waste in the form of plastic packaging and small non-packaging plastic items (PPSI). Thanks to tougher, smarter laws and regulations that tackle pollution, significant improvements in plastic waste management are evident. Yet it is not sufficient to offset the increase in plastic waste generated by the EEA member countries. The goal is absolute decoupling of waste generation from gross domestic product (GDP) so that economic growth does not mean more waste — and therefore more marine litter.
What's the problem?
The EU Packaging and Packaging Waste Directive has reduced the largest fraction of marine litter over the past decade. However, data gaps undermine confidence in this finding. For example, we cannot calculate how much waste 'leaks' into the seas every year. What we do know is that increasing waste leakage and increasing marine litter are strongly correlated.
Still, the flow of plastic packaging and small non-packaging plastic items (PPSI) can be considered slightly circular, with the 27 EU Member States (EU-27) achieving an average recycling rate of 41% in 2019 (Eurostat, 2021). In many countries, however, improvements in waste management are still struggling to keep up with the growth in overall plastic waste generated.
Waste management is not a silver bullet for the problem of marine litter — prevention comes first.
© Designed by Amy Shamblen on Unsplash
Despite relatively high recycling rates, significant volumes of waste are exported to developing countries for recycling. There, the 'rejects' end up in regional waterways — flowing into and spreading around the world's oceans and seas. Tighter waste management systems with fewer 'leaks' and more robust waste collection should form part of well-designed legal frameworks, economic instruments and public outreach campaigns that tackle mismanaged plastic waste.
Once plastics become waste as a result of linear economies, the quality of countries' and municipalities' waste management practices define whether or not the plastic waste will leak into the environment. Therefore, to avoid plastics becoming waste in the first place, we must reuse, repair, re-manufacture, recycle, ban unnecessary products, use taxes and extended producer responsibility schemes, and raise awareness among consumers.
In simple terms, the problem of marine litter usually starts way upstream and with seemingly unrelated decisions. Poor municipal waste handling, inconsistent plastic recycling policies between countries, profit-first business models and resource-hungry industries are among the main concerns.
Policy highlight
Waste management is not the only answer to the marine litter problem. Preventing waste must always come first. The sheer volume of waste entering the sea, and the mounting health and environmental risks involved, demand strong responses at all levels — from local to pan-European to global.
What does the Eionet ETC report tell us?
The latest data presented in the Eionet ETC report reveal that, in most European countries, the amount of PPSI waste increased between 2012 and 2018, whether managed or mismanaged.
Between 2012 and 2018, total PPSI waste generation increased

Note: Total amounts of plastic packaging and small non-packaging plastic items (PPSI) waste generated in the 32 EEA member countries and the UK.

Source: ETC/ICM, (2022).

Click here for different chart formats and data
This means that improvements at the waste management level have not been sufficient enough to reduce the amounts of mismanaged PPSI waste.
However, based on reported data, the EEA estimates that six countries reduced their absolute amounts of mismanaged plastic waste between 2010 and 2018. In Finland, Ireland, Lithuania, Poland and Slovenia this was mainly due to improved collection coverage and/or programmes tackling illegal dumping and improving landfill management. In Finland, this was likely due to the implementation of preventive actions to reduce leakages from waste management operations (Dahlbo, 2019).
Only two countries — Luxembourg and Switzerland — saw decreased PPSI waste per person, according to EEA calculations. Overall, western Europe generates more plastic waste per person than eastern Europe.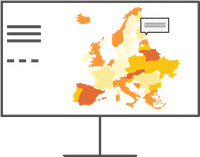 While approximately 80% of marine litter starts further inland, coastal tourism is also a major driver. Paradoxically, tourism is also one of the sectors worst affected by marine litter. Polluted beaches are unappealing and lead to reputational damage. Community clean-ups can only go so far to fix the problem. Few studies detail the specific impact of tourism on plastic waste generation in Europe. Meanwhile, the costs of inaction continue to mount: not only for the environment but also for the economy and society in general.
Policy highlight
Among the four European regional seas, the Baltic Sea is the cleanest, while the Mediterranean Sea and the Black Sea are the most polluted. Industry and society can make a difference by better using, reusing and recycling materials — especially plastic — as part of Europe's wider transition to a circular economy. 
References
Dahlbo, 2019. 'Closing plastic circles in Finland – policy and research activities', presentation given at: Saubere Stoffkreisläufe - Schad- und Störstoffe in der Kreislaufwirtschaft TU Wien, Vienna, Austria, 29 April 2019.
ETC/ICM, (2022), Marine litter in Europe – An integrated assessment from source to sea. (ETC/ICM Report 5/2022: Marine Litter in Europe - An integrated assessment from source to sea — Eionet Portal (europa.eu)) Accessed: 11 January 2023 
Eurostat, 2021, 'Recycling rates of packaging waste for monitoring compliance with policy targets, by type of packaging [env_waspacr]' (https://ec.europa.eu/eurostat/databrowser/view/cei_wm020/default/table?lang=en) accessed 09 January 2023.
Permalinks
Permalink to this version

Permalink to latest version
Geographic coverage