Resource efficiency
Page
Last modified 12 May 2016, 11:17 AM
Resource efficiency — the relationship of resource inputs to economic output — is essential to sustain and enhance the wellbeing of current and future generations. It is a core element in creating a 'green economy' in Europe and elsewhere.
More from less — material resource efficiency in Europe
| | A new brochure presents preliminary findings from the 2015 EEA review of policies and approaches to material resource efficiency in 31 European countries. It has been prepared to support the European Commission's work on resource efficiency by providing information on national contexts, but will also contribute to reflections on the circular economy. |
| --- | --- |
This summary of first findings covers national strategies and plans; drivers of material resource efficiency; priority resources and sectors; the circular economy and closing material loops; targets; indicators; and institutional set-ups. This is followed by a set of policy considerations addressing key concepts; opportunities for synergies; the circular economy; targets and indicators; and institutional arrangements and support.
The EEA report "More from less – material resource efficiency in Europe", accompanied by 32 individual country profiles, will be published in the spring of 2016.
The participating countries were:
Austria, Albania, Belgium, Bulgaria, Croatia, Czech Republic, Denmark, Estonia, Finland, France, Germany, Hungary, Iceland, Ireland, Italy, Kosovo*, Latvia, Liechtenstein, Lithuania, the former Yugoslav Republic of Macedonia, the Netherlands, Norway, Poland, Portugal, Serbia, Slovakia, Slovenia, Spain, Sweden, Switzerland, Turkey, and the United Kingdom.
* Under UNSCR 1244/99
In 2011, the European Environment Agency (EEA) conducted a detailed survey to collect, analyse and disseminate information about national experiences in developing and implementing resource efficiency policies. The purpose was two-fold: to help expand the knowledge base on resource efficiency, an emerging priority on the European Union's agenda, and to facilitate the sharing of experience and good practice.
The resulting report "Resource efficiency in Europe" and 31 individual country profiles, described in more detail below, provided an overview of resource efficiency policies and instruments in the member and cooperating countries of the European Environment Information and Observation Network (Eionet).
Four years on, additional policies on resource efficiency, the circular economy and closing material loops have emerged. Responding to this, in 2015 the EEA, jointly with Eionet and the European Topic Centre on Waste and Materials in a Green Economy, set out to review national approaches to material resource efficiency and to explore similarities and differences in policies, strategies, indicators and targets, policy drivers and institutional set-ups.
The main objective was to stimulate the sharing of experience between countries in the development of material resource efficiency policies. The work also contributes to broadening the knowledge base underpinning resource efficiency and the circular economy, and increases the understanding of policy approaches taken by countries. The approach and scope of the work were developed in close consultation with Eionet in order to reflect countries' priorities and needs.
In contrast to the 2011 work, the analysis in 2015 focused on material resources rather than the more broadly defined natural resources.
The scope of material resources
Following consultation with Eionet, the 2015 work focuses on policies and initiatives on material resources. The scope includes material flows entering or leaving the economy (biomass, non-metallic minerals, metal ores, and fossil energy materials) as well as secondary (waste derived) raw materials. Also within the scope are the transformations that materials undergo throughout their full life cycles, including initiatives to close material loops in the context of a circular economy.
Upcoming EEA report and individual country profiles 
In the spring of 2016, the work presented above will result in the publication of:
Country profiles — 32 self-assessments prepared by countries describing the status of their material resource efficiency policies, including their approach to the circular economy and to closing material loops
An analytical report "More from less — material resource efficiency in Europe"  prepared by the EEA and the European Topic Centre on Waste and Materials in a Green Economy, presenting an overview of findings from the analysis of information provided by the 32 participating countries. In addition, the report will include some considerations for future policies on material resource efficiency and the circular economy.
Resource efficiency in Europe - 2011 survey of resource efficiency policies and instruments
| | To support the elaboration of the EU's resource efficiency flagship initiative, in November 2010 the EEA initiated a survey of resource efficiency policies and instruments in its member and collaborating countries.  |
| --- | --- |
The work in 2011 comprised the following components available via the EEA website:
Country profiles on resource efficiency policies  — these thirty one country self-assessments broaden the knowledge base for the EU2020 resource efficiency flagship by describing for each country the current status of resource efficiency policies;
An analytical report 'Resource efficiency in Europe' reviewing trends, similarities and differences in policy responses;
A leaflet with summary of findings from the analytical report.
Why is resource efficiency so important to us?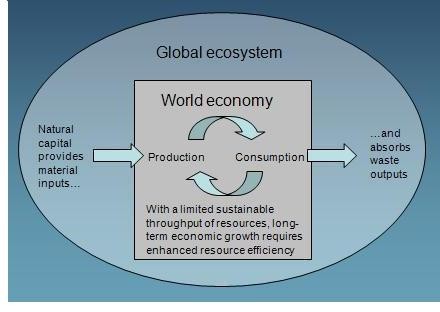 The key to answering that question lies in recognising that humanity's economic activities are dependant on the global ecosystem – in particular its capacity to provide resources and to absorb pollution and waste. Crucially, the Earth is a closed material system and that shapes the possibilities for economic growth.
Of course, for some non-renewable resources, including many metals and minerals, security of supply isn't yet a concern; for others, such as fossil fuels, high-tech metals and land, availability is already a problem.
Natural systems can also be seen as a form of capital. If we maintain our natural capital it will provide hugely valuable renewable resources and ecosystem services: generating food and fibres, regulating the climate, purifying water and so on. But over-exploiting our natural capital, for example by taking too many resources or emitting excessive pollutants, will reduce its ability to provide further goods and services.
Natural limits
Put simply, humanity can't keep taking ever more resources from the environment and generating ever more waste. Once the flow of resources through the economy has reached its maximum sustainable limit (and many would argue that we've already passed that point for some resources), the only way to maintain economic growth in the long run is to become more resource efficient – finding ways to generate greater returns from the same amount of resources.
Resource efficiency isn't only valuable because it is essential for sustained economic growth. Reducing environmental impacts also contributes to well-being derived outside the market economy, notably the quality of life that comes from living in a healthy, attractive environment. Moreover, promoting resource efficiency can increase the competitiveness of industry, create jobs, stimulate innovation, boost sectors such as recycling and resource recovery, and help ensure secure supplies of key resources.
In view of these numerous benefits, it is hardly a surprise that resource efficiency has become a key priority for policymaking in Europe. In particular, the European Union has designated resource efficiency as one of seven flagship iniatives within the EU2020 strategy for smart, sustainable and inclusive growth.
Measuring and managing resource use
When resource efficiency is understood in the sense outlined above, it is clear that decision-makers seeking to promote resource efficiency will need to draw on a substantial knowledge base.
To understand resource efficiency, policymakers first need indicators of the extent and nature of resource inputs and their relationship to economic outputs globally, nationally and at smaller scales of production, such as individual sectors. Consumption-focused indicators, which measure the resources used in products and services across their whole life cycle, are also valuable, particularly for understanding and designing policy to address resource use embedded in international trade.
Having identified the trends and drivers of resource use, policymakers need to determine how to enhance resource efficiency. The challenge is enormous and decision-makers in all sectors need information on the policies, tools and technologies that can be deployed within the economy (at national, regional and other scales) to extract more value from resources, while minimising waste and emissions.
EEA contributions to the knowledge base on resource efficiency
EEA is well positioned to contribute to the knowledge base for decision-making on resource efficiency, through its information and analysis on a huge range of themes, including land use, waste, energy, industry, transport and policy instruments. This area of the EEA website showcases this work in the resource efficiency context. Additional reports, articles and other products related to resource use and resource efficiency are available below.
Reports
For references, please go to www.eea.europa.eu/soer or scan the QR code.
This briefing is part of the EEA's report The European Environment - State and Outlook 2015. The EEA is an official agency of the EU, tasked with providing information on Europe's environment.
PDF generated on 31 May 2016, 05:11 PM