Trends and projections in Europe 2013 – Tracking progress towards Europe's climate and energy targets until 2020
Publication
Created 04 Oct 2013
Published 09 Oct 2013
Note: new versions are available!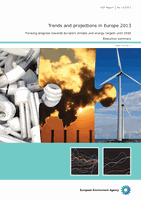 Downloading:

Executive summary Trends and projections 2013.pdf
— PDF document, 3.63 MB (3803394 bytes)
Publication
Created 04 Oct 2013
Published 09 Oct 2013
EEA Report No 10/2013
This report provide an assessment of the progress of the EU and European countries towards achieving their climate mitigation and energy policy objectives. These targets include international commitments pursuant the KP and the EU 2020 commitment to reduce by 20 % greenhouse gas (GHG) emissions compared to 1990, to create 20 % of energy consumption from renewables and to increase energy efficiency by 20 %. The assessment is based on GHG data for the period 2008–2012, including recent estimates of proxy 2012 GHG emissions, GHG projections until 2020 submitted by Member States in 2013, as well as energy statistics until 2011.
Download
Order information
Order a printed copy on the EU Publications website
Related data viewers
Additional Files