The European environment — state and outlook 2015 — synthesis report
Publication
Created 08 Jan 2015
Published 02 Mar 2015
Note: new versions are available!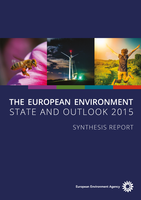 Publication
Created 08 Jan 2015
Published 02 Mar 2015
The synthesis report informs future European environmental policy in general and its implementation between 2015 and 2020 in particular. It includes a reflection on the European environment in a global context, as well as chapters summarising the state of, trends in, and prospects for the environment in Europe.
Download
Order information
Order a printed copy on the EU Publications website
Additional Files