Consumption signals
Page
Last modified 08 Dec 2022
This section of the zero pollution monitoring assessment presents a series of short case studies that highlight additional sources of information on pollution associated with consumption.
Consumption Signal 1: EU consumption and safe operating space
The planetary boundary concept aims to quantify the sustainability of consumption by assessing its impacts against the Earth's 'carrying capacity'. This is defined as the maximum sustained environmental intervention that a natural system can withstand without experiencing negative changes that are difficult or impossible to reverse (Bjørn and Hauschild, 2015). Based on the latest assessment by the Joint Research Centre, the environmental impact of EU consumption goes beyond this 'safe operating space' in six impact categories linked to pollution (see Figure 1). If all humans consumed as much as the average EU citizen does, the planet's carrying capacity would be exceeded. 
Figure 1. Comparison of 16 climate and environmental impacts of EU consumption with the Earth's carrying capacity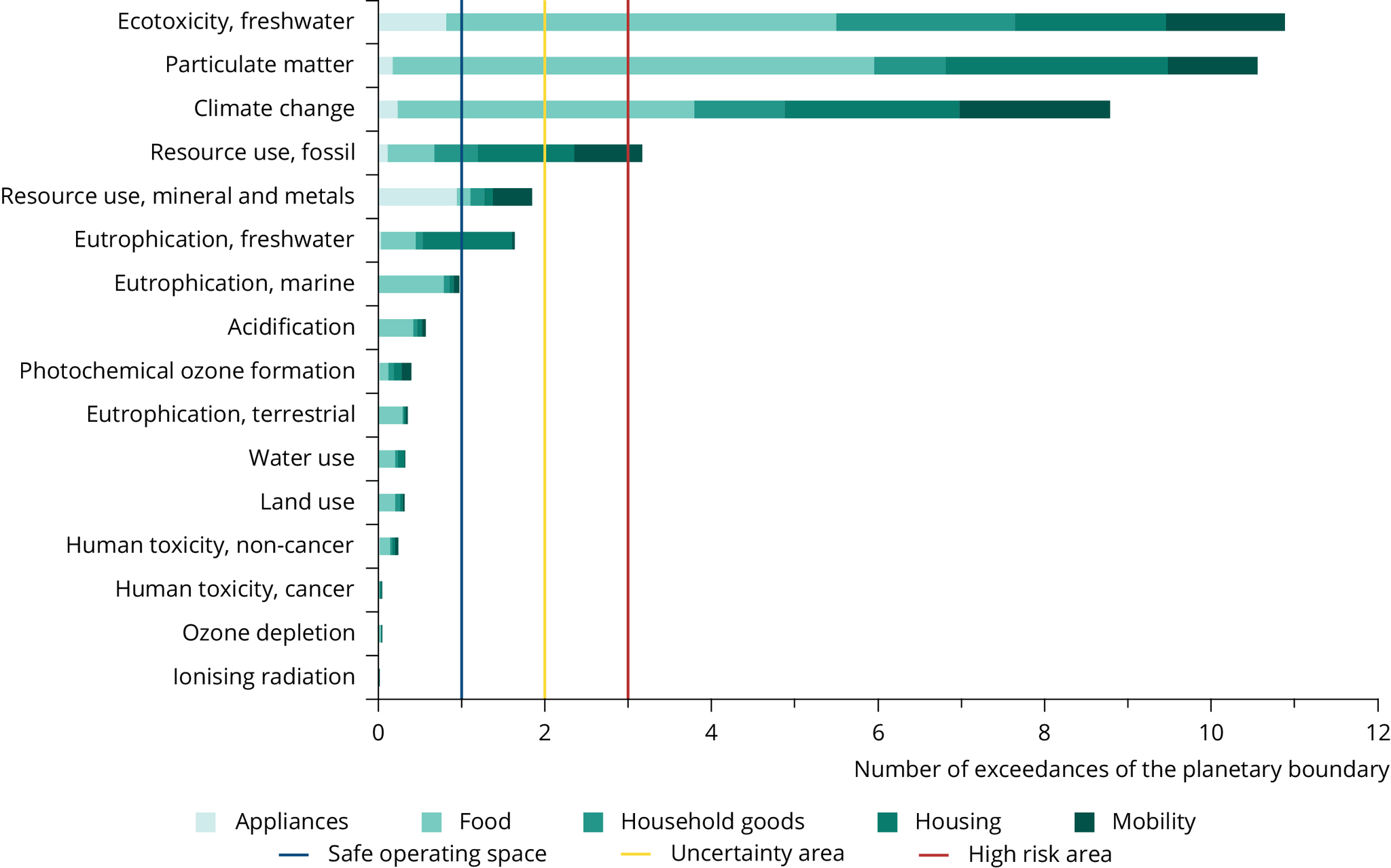 Source: JRC (2022).

Click here for different chart formats and data
Consumption Signal 2: Planetary boundaries and novel entities
A new scientific study has recently indicated that, in addition to the six impact categories described in the zero pollution 'Signal' on EU consumption and safe operating space, the safe operating space[1]for the planet may now also be exceeded with respect to 'novel entities' — a term that mainly refers to new chemicals (Persson et al., 2022). Immediate action is called for to curb the production and consumption of these substances and reduce harm to humans and ecosystems. Even if this happens, some pollutants will persist in the environment, which means that they will continue to pose a threat.
The new study accounts for the environmental impacts from the production of novel entities and assesses whether they exceed the relevant 'planetary boundary' using an impact pathway approach(see Figure 1). The authors state that increasing the production and release of novel entities, together with the diverse associated risks, means that safety assessments cannot keep up; they also find plastic pollution particularly concerning.
Figure 1. Novel entities' impact pathways
Source: Persson et al. (2022).

Click here to view the figure enlarged
Notes
[1] A well-defined and appropriate definition here for safe operating space is the idea of 'carrying capacity' (Bjørn and Hauschild, 2015). 'Safe operating space' refers to all relevant Earth systems.
References
Bjørn, A. and Hauschild, M. Z., 2015, 'Introducing carrying capacity-based normalisation in LCA: framework and development of references at midpoint level', International Journal of Life Cycle Assessment 20, pp. 1005-1018 (https://doi.org/10.1007/s11367-015-0899-2).
Persson, L., et al., 2022, 'Outside the safe operating space of the planetary boundary for novel entities', Environmental Science and Technology 56(3), pp. 1510-1521 (https://doi.org/10.1021/acs.est.1c04158).
Cover image source: © Mateo Puđa, Well with Nature /EEA
Permalinks
Permalink to this version

Permalink to latest version
Geographic coverage