Trends and projections in Europe 2016 - Tracking progress towards Europe's climate and energy targets
Publication
Created 08 Nov 2016
Published 01 Dec 2016
This report is being published online only. No printed edition of this report will be produced.
Note: new versions are available!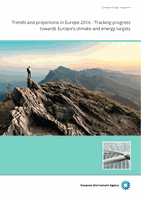 Trends and projections in Europe 2016 - Tracking progress towards Europe's climate and energy targets
Publication
Created 08 Nov 2016
Published 01 Dec 2016
EEA Report No 29/2016
The 2016 edition of the annual EEA report, Trends and projections in Europe, provides an updated assessment of the progress of the EU and European countries towards their climate mitigation and energy targets.
Additional Files
Identifiers
Media

Catalogue number

ISBN

ISSN

DOI

HTML/
Volume_01  


TH-AL-16-029-EN-Q



978-92-9213-828-8


1977-8449


10.2800/979462


PDF/Volume_01

TH-AL-16-029-EN-N

978-92-9213-827-1

1977-8449

10.2800/39577


Permalinks
Permalink to this version

Permalink to latest version
Geographic coverage