Summer 2014 ozone assessment
Publication
Created 18 Nov 2016
Published 06 May 2015
This report is being published online only. No printed edition of this report will be produced.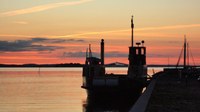 Summer 2014 ozone assessment
Publication
Created 18 Nov 2016
Published 06 May 2015
Technical report No 10/2015
The European Union (EU) has defined various standards to protect human health against pollution by ozone, including: information threshold, alert threshold, and long-term objective (LTO). During summer 2014, concentrations of ground-level ozone significantly exceeded these standards. However, the number of exceedances was lower than in many previous years, continuing the long-term downward trend observed over the last 25 years. The first standard, information threshold (whereby a 1 hour concentration of 180 μg/m3 triggers an obligation to inform the population on possible risks), was exceeded at approximately 9% of all stations providing data. The alert threshold (which is triggered when a 1 hour concentration exceeds 240 μg/m3 and requires countries to take immediate action) was exceeded only 4 times. The long-term objective (LTO, i.e. the maximum daily 8-hour mean concentration of ozone should not exceed 120 μg/m3) was exceeded in almost all Member States and in 81% of all reporting stations.
Additional Files
Permalinks
Permalink to this version

Permalink to latest version
Geographic coverage