NEC Directive status report 2010
Publication
Created 01 Jun 2011
Published 01 Jun 2011
Note: new versions are available!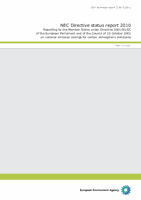 Publication
Created 01 Jun 2011
Published 01 Jun 2011
Technical report No 3/2011
Reporting by the Member States under Directive 2001/81/EC of the European Parliament and of the Council of 23 October 2001 on national emission ceilings for certain atmospheric pollutants
Download
Order information
Order a printed copy on the EU Publications website
This report documents the most recent emissions and projections information requested under the National Emission Ceilings Directive (NECD) by the end of 2010. The directive requires all 27 Member States of the European Union to report information annually concerning emissions and projections for four main air pollutants: sulphur dioxide (SO2), nitrogen oxides (NOX), non-methane volatile organic compounds (NMVOCs) and ammonia (NH3). These pollutants harm both human health and the environment by contributing to formation of ozone and particulate matter and by causing acidification and eutrophication. To help protect human health and the environment, the NECD sets pollutant‑specific and legally binding emission ceilings for each of these pollutants and for each country, which must be met by 2010 and thereafter.
Additional Files
Permalinks
Permalink to this version

Permalink to latest version