Published 08 june 2018
Marine Litter Watch is a European Environment Agency (EEA) initiative that aims to combat the plastic litter problem. It uses citizen science — scientific research conducted, at least partly, by members of the public — and mobile-phone technology to help individuals and communities come together to clean up Europe's beaches. Volunteers use the Marine Litter Watch app to form communities that collect litter from beaches and send data on the items found to the EEA.

The initiative — set-up in 2014 and involving non-governmental organisations and research institutions — is the only pan-European platform that members of the public can use to co-ordinate clean ups and record beach litter. The focus on citizens is designed to complement the collection of official marine litter data by national authorities and fill data gaps. As well as developing and hosting the app, the EEA is responsible for quality assurance of the data.

This briefing highlights the work and results of the Marine Litter Watch clean-up activities held on the beaches of Europe's four regional seas (the Baltic Sea, the Black Sea, the Mediterranean Sea and the North-East Atlantic Ocean) between 2014 and 2017. It also presents the top ten litter items found and attempts to link them to the most likely litter sources.
1627
beach clean-up events
Look for the Marine LitterWatch Community overview, showing the date when they started collecting data.
When beaches become dumping grounds
Top ten items of marine litter reported by the public and where they were found

Plastic, in its different shapes and forms, appears on beaches all over Europe but some regional trends emerge: paraffin was found in large quantities during clean-ups on Baltic Sea beaches and, while more data from clean-ups are needed, this is presumably the result of people grilling food on the beach; crisp packets and wrappings are common on North-East Atlantic beaches providing an insight into dietary preferences; and smoking plays a major part in marine litter across Europe.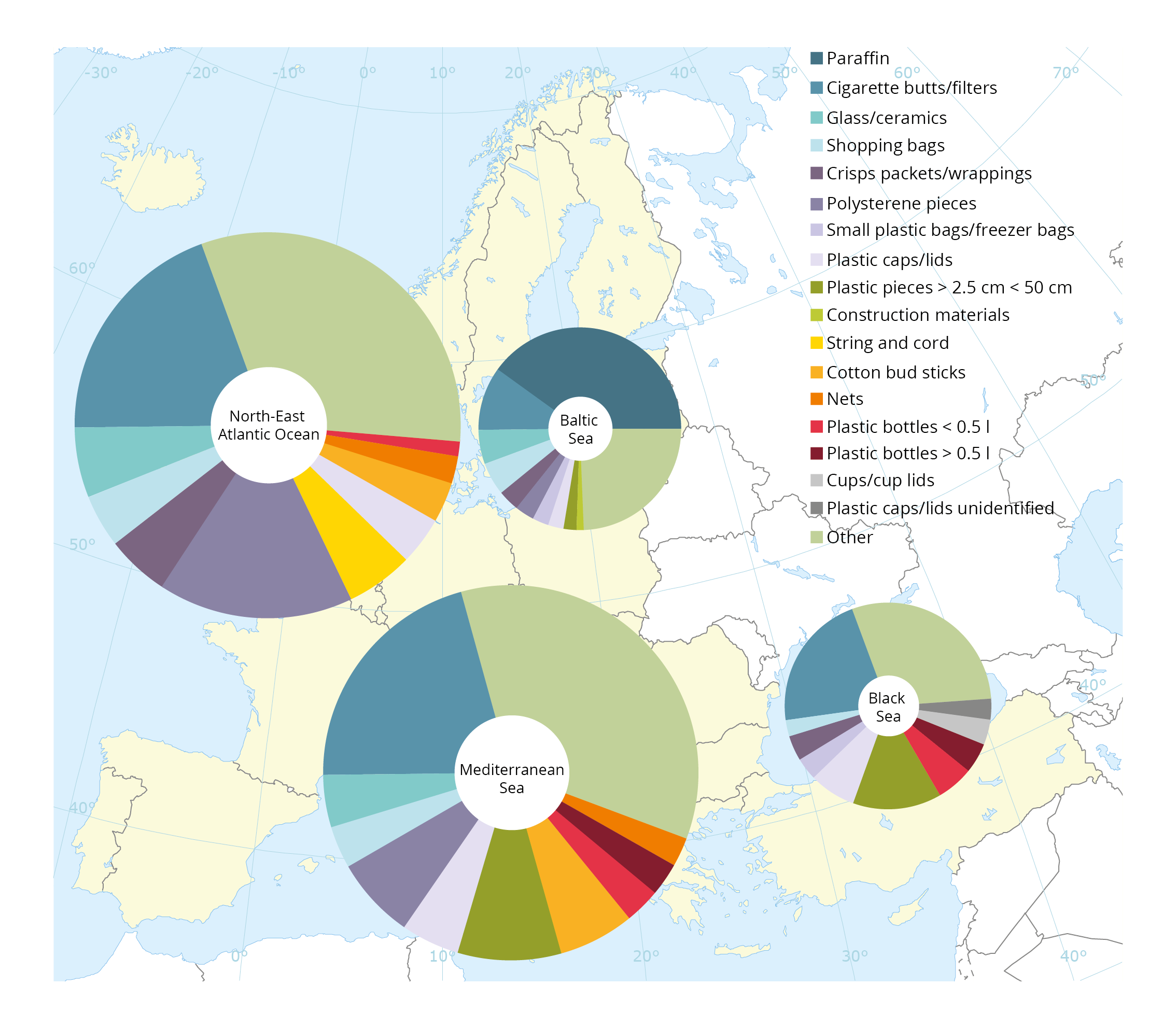 Source: Marine LitterWatch data viewer
Download data
The findings from Marine Litter Watch reflect trends reported officially by national authorities.
Analysis of the data reported during beach clean-ups has resulted in a list of the top 10 most commonly found items on European beaches. Encouragingly, this is almost identical to the top 10 list of items revealed by official data under the Marine Strategy Framework Directive's Technical Group on Marine Litter, the first ever Europe-wide Strategy on Plastics and other related initiatives. This validates the approach taken by Marine Litter Watch in using citizen science to complement official environmental data. The complementary data provided by Marine Litter Watch, and the way in which it is made accessible via an online database makes data comparability and future trend assessments reliable.