Energy and environment report 2008
Publication
Created 20 Nov 2008
Published 20 Nov 2008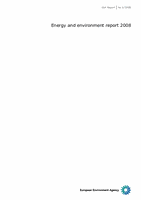 Publication
Created 20 Nov 2008
Published 20 Nov 2008
EEA Report No 6/2008
Download
Order information
Order a printed copy on the EU Publications website
Underpinning Energy and Environment indicators:
The 'Energy and Environment indicators' underpinning the Energy and Environment report refer to data covering the period 1990-2005, with few exceptions. The main data sources were: The European Community LRTAP Convention emission inventory report 1990-2005, the 2007 EC Greenhouse Gas Emission inventory report; and the energy balances from Eurostat (for European countries) and from the IEA (for countries not covered by Eurostat). More updated greenhouse gas and air pollutant emissions data can be obtained from http://www.eea.europa.eu/themes/climate and http://www.eea.europa.eu/themes/air
The energy and environment indicators with 2006 data should be available in February 2009. The set will also include three new indicators which have been partially included in the Energy and Environment Report (i.e. renewable final energy consumption, energy efficiency and CO2 savings, and security of energy supply).
Additional Files
Permalinks
Permalink to this version

Permalink to latest version