Energy and environment in the European Union - Tracking progress towards integration
Publication
Created 27 Jun 2006
Published 27 Jun 2006
Note: new versions are available!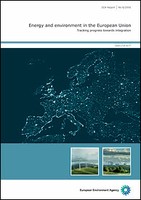 Energy and environment in the European Union - Tracking progress towards integration
Publication
Created 27 Jun 2006
Published 27 Jun 2006
EEA Report No 8/2006
Indicator-based report to measure progress of environmental integration within the energy sector.
Order information
Order a printed copy on the EU Publications website
Underpinning Energy and Environment indicator fact-sheets (Updated versions of the indicators can be found on the energy indicators page).
Additional Files
Permalinks
Permalink to this version

Permalink to latest version