Air pollution by ozone in Europe in 1997 and summer 1998
Publication
Created 22 Jul 1999
Published 22 Jul 1999
Note: new versions are available!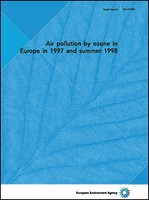 Air pollution by ozone in Europe in 1997 and summer 1998
Publication
Created 22 Jul 1999
Published 22 Jul 1999
Topic report No 3/1999
This report summarises the annual information on ozone monitoring stations and exceedances of ozone threshold values during 1997 and gives a first evaluation of the observed exceedances of the thresholds during Summer 1998 (April-August).
Order information
Order a printed copy online (EU-Bookshop).
Additional Files
Permalinks
Permalink to this version

Permalink to latest version