10 messages for 2010 - Coastal ecosystems
Publication
Created 25 Aug 2010
Published 25 Aug 2010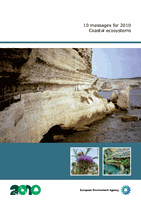 Publication
Created 25 Aug 2010
Published 25 Aug 2010
Key messages: 1) As an interface between land and sea, European coastlines provide vital resources for wildlife, but also for the economy and human health and well-being. 2) Multiple pressures, including habitat loss and degradation, pollution, climate change and overexploitation of fish stocks, affect coastal ecosystems. 3) Coastal habitat types and species of Community interest are at risk in Europe; two thirds of coastal habitat types and more than half of coastal species have an unfavourable conservation status. 4) Integrated and ecosystem-based approaches provide the foundation for sustainable coastal management and development, supporting socio-economic development, biodiversity and ecosystem services. Coordinated action at the global, regional and local levels will be key to sustainable management of coastal ecosystems.
Download
Order information
Order a printed copy on the EU Publications website
This document is the 9th in a series of '10 messages for 2010'. Each message provides a short assessment focusing on a specific ecosystem or issue related to biodiversity in Europe. The final message will be published before the end of 2010. More detailed information on the published and forthcoming messages can be found at '10 messages for 2010'.
Additional Files
Permalinks
Permalink to this version

Permalink to latest version