10 messages for 2010 – Cultural landscapes and biodiversity heritage
Publication
Created 22 Sep 2010
Published 27 Sep 2010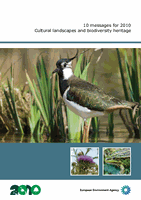 Publication
Created 22 Sep 2010
Published 27 Sep 2010
Key messages: 1) Diverse climatic conditions, varied geology and morphology and centuries of pre- and post-industrial land use created Europe's diverse mosaic of cultural and natural landscapes, rich in biodiversity. 2) Europe's landscapes have become highly fragmented and homogenised, threatening their biodiversity and affecting their multifunctional role. 3) By managing its multifunctional culture-historical landscapes and related biodiversity sustainably, Europe can secure valuable ecosystems services while preserving its cultural and natural heritage. 4) Various legal instruments and initiatives address European biodiversity heritage at the landscape level. Incorporating these into regional and local planning and involving local communities is necessary to secure Europe's biodiversity heritage and maintain multifunctional landscapes.
Download
Order information
Order a printed copy on the EU Publications website
This message is the 10th in a series of '10 messages for 2010'. Each message provides a short assessment focusing on a specific ecosystem or issue related to biodiversity in Europe. Other messages.
Additional Files
Permalinks
Permalink to this version

Permalink to latest version