Indicator Assessment
Accidental oil tanker spills
Indicator Assessment
Published 05 Jul 2010
Last modified 19 Jan 2022
This page was
archived
on
09 Feb 2021
with reason:
Other (Discontinued indicator)
Despite the decreasing number of accidental oil spills in European waters, major accidental oil tanker spills (i.e. those greater than 20 000 tonnes) still occur at irregular intervals. Large (i.e. greater than 7 tonnes) accidental oil spills account for about 10-15 per cent of all oil that enters the ocean world-wide every year. Land-based discharges - inputs from industrial effluents, urban and river run-off, sewage and atmospheric inputs from land industry - constitute the major source of anthropogenic marine pollution.
Large (> 7 tonnes) tanker spills in European waters 1990-2007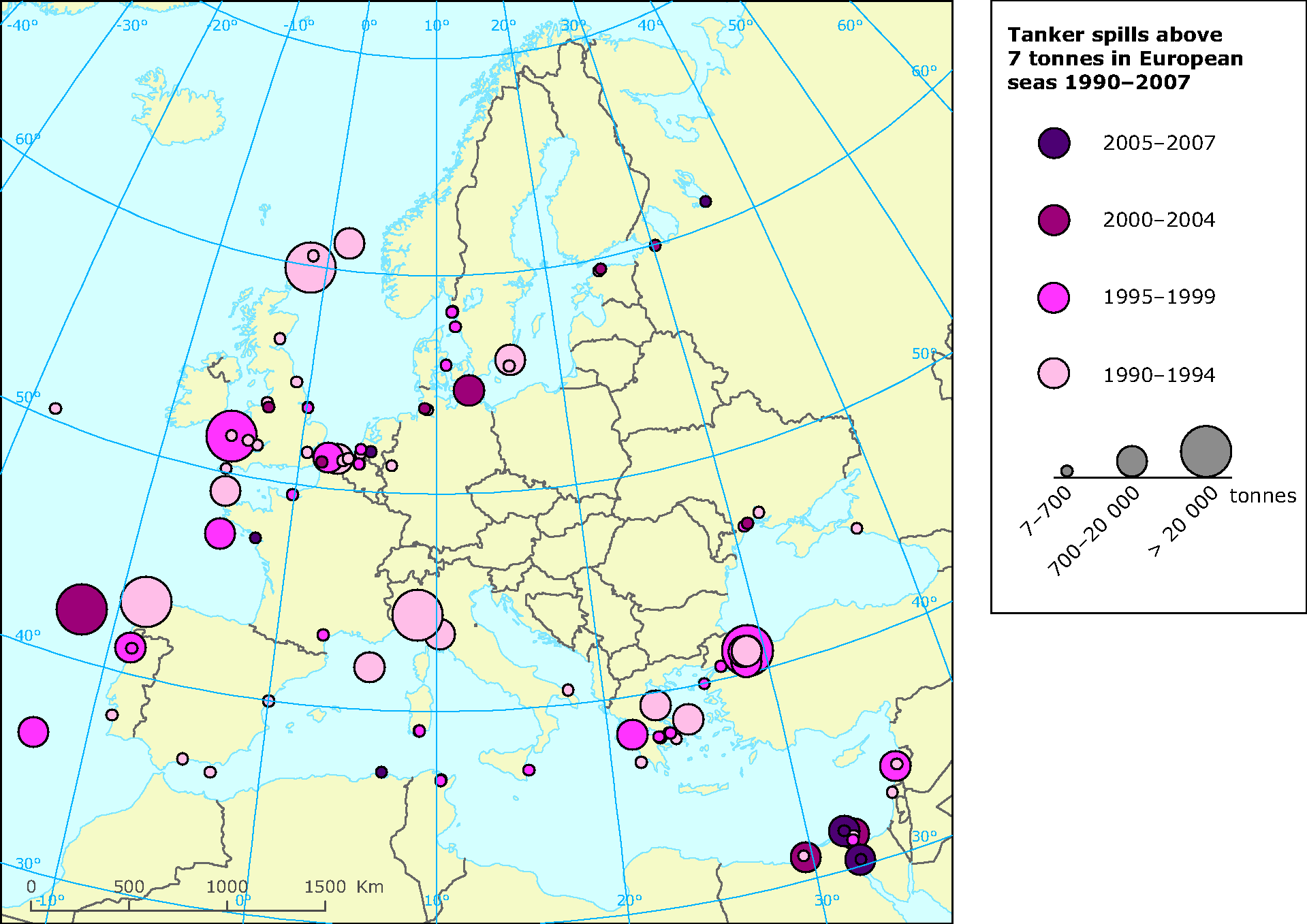 Data source:
International Tanker Owners Pollution Federation Ltd, ITOPF, 2008; http://www.itopf.com/ Indicator: EN14 Energy-energy related greenhouse gas emissions . See further links on this page
The number of large accidental oil tanker spills into the European Seas has decreased significantly over the past 17 years (Fig. 1). Of the total amount of oil spilt in large accidents (i.e. more than 7 tonnes) during the 1990-2007 period (558 764 tonnes), two thirds were spilt over 1990-1994. The five year periods 1995-1999 and 2000-2004 account for around 19 % and 14 % of the total oil spilt in large accidents, respectively. Between 2005 and 2007 7500 tonnes were released into the environment, about 1% of the total amount spilt since 1990. However, this trend is, to a large extent dependent on the occurrence of major accidents (>20000 tonnes) accidents. During the period 1990-2007, of the 116 accidental spills over 7 tonnes, only 7 accidents resulting in spills of around 20 000 tonnes or more account for 88 % of the volume of oil spilt (Fig. 2, Fig. 5 and Fig 6).
Unfortunately such major accidents still occur at irregular intervals. Nevertheless, it is encouraging that the improvement took place despite a continued rise in the maritime transport of oil. Increased safety measures, such as the introduction of double-hulled tankers (as mandated by the IMO), have contributed to this positive trend. A more rapid introduction of double hulls for tankers will help to further reduce this risk together with the enforcement of traffic monitoring and information system legislation and the enforcement of the law against ship-source pollution - including criminal sanctions for pollution offences. The establishment of the European Maritime Safety Agency (EMSA) is expected to play a role in reducing the risk of accidental oil spills from tankers into the sea. Further improvements in maritime safety are also supported by the EU in the proposed third maritime safety package and the proposed accelerated introduction of double-hull tankers.
Since 1990 the range of causes for accidental oil spills has narrowed (Fig. 4). In 1990 the majority of accidents were caused by collision and loading/discharging and hull failure. The two most recent large oil spills, the Erika and Prestige (both single hull tankers) were the result of hull failure (Fig. 5). Collision remained a significant cause of accidents in the first half of the 1990s and was the reason for the majority of accidental oil spills in 2005 and 2006. The main cause for more recent oil spills has been grounding.
Indicator definition
No definition has been specified
Units
No units have been specified
Policy context and targets
Context description
... ...
Targets
No targets have been specified
Related policy documents
No related policy documents have been specified
Methodology
Methodology for indicator calculation
No methodology for indicator calculation has been specified
Methodology for gap filling
No methodology for gap filling has been specified. Probably this info has been added together with indicator calculation.
Methodology references
No methodology references available.
Uncertainties
Methodology uncertainty
No uncertainty has been specified
Data sets uncertainty
No uncertainty has been specified
Rationale uncertainty
No uncertainty has been specified
Data sources
No datasets have been specified.
Permalinks
Permalink to this version

Permalink to latest version
Topics