Figure
Trends in nutrient concentrations in transitional, coastal and marine waters, 1985-2005
Figure
Created 12 Nov 2009
Published 12 Nov 2009
Last modified 26 Aug 2017
This page was
archived
on
26 Aug 2017
with reason:
A new version has been published
How to read the graph: About 1 % of stations in the NE Atlantic reported a significant decrease of oxidized nitrogen concentrations between 19852005, the remainder reported no change
/data-and-maps/figures/ga-downloads/E08F6252-B556-49E7-97A3-21D24663BB09/trends-in-nutrient-concentrations-in-transitional-coastal-and-marine-waters-1985-2005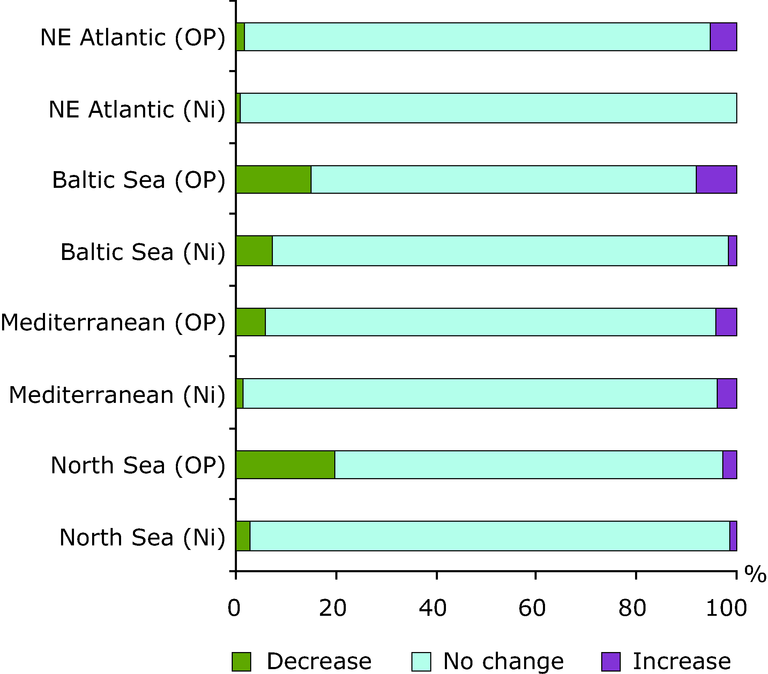 Download
Metadata
Additional information
For some countries the data include stations with observations made in 2005, for some only up to 2004. The full data set is available via http://themes.eea. europa.eu/IMS/ISpecs/ISpecification20041007132008/ IAssessment1204714151163/view_content.
Permalinks
Permalink to this version

Permalink to latest version
Geographic coverage

Topics