Figure
Summary of trends in winter nitrate and phosphate concentration, and N/P ratio in the coastal waters of the North Atlantic (mostly Celtic Seas), the Baltic Sea, the Mediterranean and the North Sea, 1985-2005
Figure
Created 12 Nov 2009
Published 12 Nov 2009
Last modified 26 Aug 2017
This page was
archived
on
26 Aug 2017
with reason:
A new version has been published
Trend analyses are based on time series 1985-2005 from each monitoring station having at least 3 years data in the period 1995-2005 and at least 5 years data in all
/data-and-maps/figures/ga-downloads/CCAFFB43-385E-4319-867C-67196D8D6354/summary-of-trends-in-winter-nitrate-and-phosphate-concentration-and-n-p-ratio-in-the-coastal-waters-of-the-north-atlantic-mostly-celtic-seas-the-baltic-sea-the-mediterranean-and-the-north-sea-1985-2005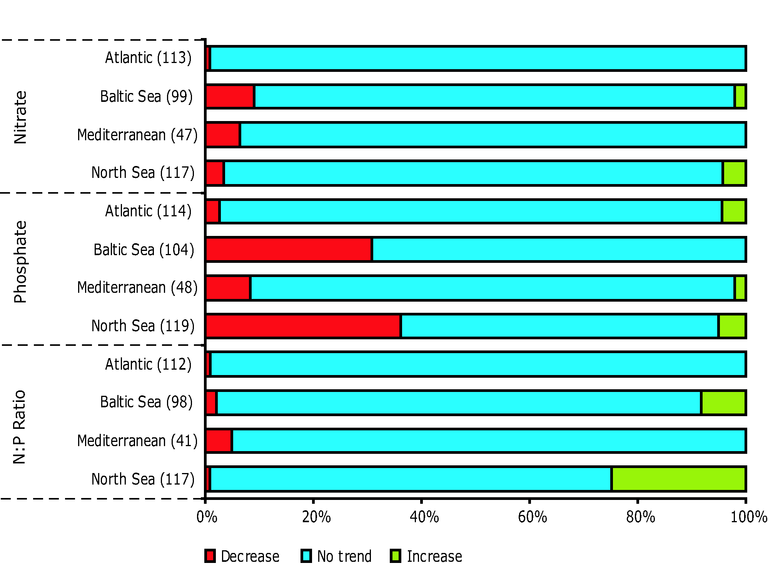 Download
European data
Metadata
Additional information
Number of stations in brackets. Atlantic (incl. the Celtic Seas) data from: UK, Ireland and ICES. Baltic Sea (incl. the Belt Sea and the Kattegat) data from: Denmark, Finland, Germany, Lithuania, Poland, Sweden and ICES. Mediterranean data from: Italy. North Sea (incl. the Channel and the Skagerrak) data from: Belgium, Denmark, Germany, Netherlands, Norway Sweden, UK and ICES.
Permalinks
Permalink to this version

Permalink to latest version
Geographic coverage
Topics
Tags