Figure
Present concentration of BOD5, BOD7 (mg O2/l) in rivers of European countries
Figure
Created 12 Nov 2009
Published 12 Nov 2009
Last modified 26 Aug 2017
This page was
archived
on
26 Aug 2017
with reason:
A new version has been published
Number of river monitoring stations included in analysis noted in brackets
/data-and-maps/figures/ga-downloads/B36C81E3-AA22-4CC8-98F5-9F6FD3374112/present-concentration-of-bod5-bod7-mg-o2-l-in-rivers-of-european-countries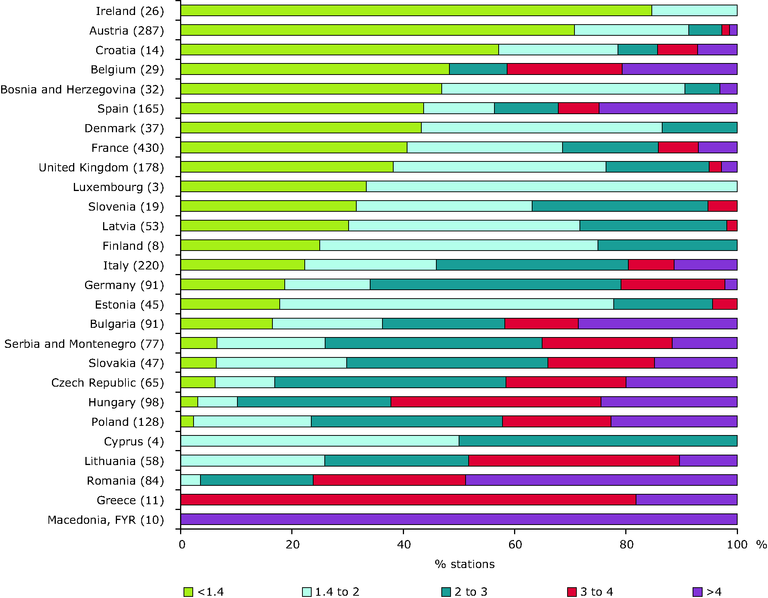 Download
European data
Metadata
Additional information
BOD5 data used for all countries except Estonia, Finland and Lithuania where BOD7 data used. Data are from representative river stations. Stations that have no designation of type are assumed to be representative and are included in the analysis. Revised classes are used. The number of stations with annual means within each concentration band is calculated for the latest year for which data are available. The latest year is 2005 for all countries except Denmark (2004), Greece (2004), Romania (2001) and Cyprus (1999).
Permalinks
Permalink to this version

Permalink to latest version
Geographic coverage
Topics