L'ambiente in Europa — Stato e prospettive nel 2010: Sintesi
La Pubblicazione
Creato 19/10/2010
Pubblicato 29/11/2010
Nota: sono disponibili nuove versioni!
State of the environment report No 1/2010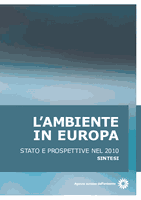 IT
Pubblicato da
EEA (European Environment Agency)
Pubblicato: 29/11/2010
Contenuto
For references, please go to www.eea.europa.eu/soer or scan the QR code.
This briefing is part of the EEA's report The European Environment - State and Outlook 2015. The EEA is an official agency of the EU, tasked with providing information on Europe's environment.
PDF generated on 14/02/2016 23:31