Overall changes in energy-related emissions by main group of air pollutants in the EU-25, 1990-2003
Figure
Created 12 Nov 2009
Published 12 Nov 2009
Last modified 29 Nov 2012, 11:39 AM
The emissions of acidifying pollutants (SO2, NOX and NH3) are each weighted by an acid equivalency factor prior to aggregation to represent their respective acidification potentials
/data-and-maps/figures/ga-downloads/6622AF53-48EA-4B0F-A1A1-4312066ECBA8/overall-changes-in-energy-related-emissions-by-main-group-of-air-pollutants-in-the-eu-25-1990-2003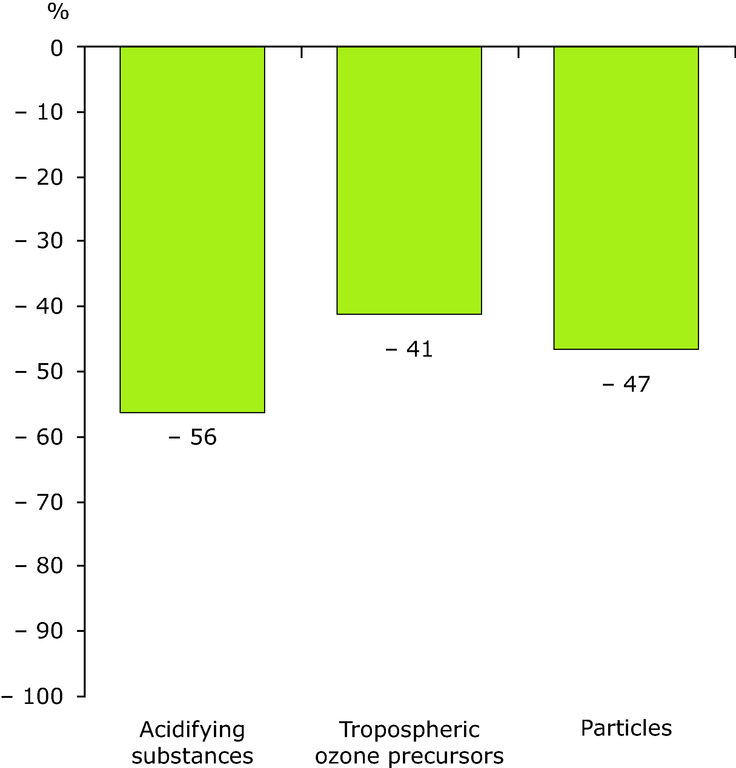 Download
Metadata
Additional information
These factors are: w(SO2) = 2/64 acid eq/g = 31.25 acid eq/kg, w(NOX) = 1/46 acid eq/g = 21.74 acid eq/kg and w(NH3) = 1/17 acid eq/g = 58.82 acid eq/kg. For tropospheric ozone formation, the relative impact of the combined contribution of NOX, NMVOC, CO and CH4 can be assessed based on their tropospheric ozone forming potentials (TOFP). These are: 1.220, 1.000, 0.110 and 0.014, respectively. For particle formation, emissions are estimated using the following aerosol 'formation factors': primary PM10 = 1, NOX = 0.88, SO2 = 0.54 and NH3 = 0.64.
For references, please go to www.eea.europa.eu/soer or scan the QR code.
This briefing is part of the EEA's report The European Environment - State and Outlook 2015. The EEA is an official agency of the EU, tasked with providing information on Europe's environment.
PDF generated on 25 Oct 2016, 10:29 PM