Environment and climate policy evaluation
Publication
Created 30 Aug 2016
Published 05 Sep 2016
EEA Report No 18/2016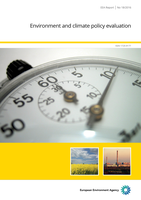 The intended audience of this European Environment Agency (EEA) publication is the professional environmental evaluation community, that is, evaluators of European environment and climate policies, the EEA's networks and interested evaluation professionals, including those that are active in the European Environmental Evaluators Network (EEEN). The publication aims to facilitate a dialogue on policy evaluation, by clearly setting out the EEA's views on some of the challenges that evaluators encounter in the areas of environment and climate policy.
Content
For references, please go to www.eea.europa.eu/soer or scan the QR code.
This briefing is part of the EEA's report The European Environment - State and Outlook 2015. The EEA is an official agency of the EU, tasked with providing information on Europe's environment.
PDF generated on 25 Oct 2016, 03:01 PM