EEA report 1/2006 - Using the market for cost-effective environmental policy
Publication
Created 26 Jan 2006
Published 26 Jan 2006
EEA Report No 1/2006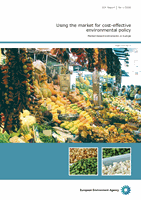 This summary report and the larger report on which it is based ("Market-based instruments for environmental policy in Europe") include an overview of the use and experience of environmental taxes and charges, emissions trading schemes, subsidies, deposit-refund systems, and liability and compensation requirements, as tools for achieving environmental objectives in the whole European area.
Content
For references, please go to www.eea.europa.eu/soer or scan the QR code.
This briefing is part of the EEA's report The European Environment - State and Outlook 2015. The EEA is an official agency of the EU, tasked with providing information on Europe's environment.
PDF generated on 28 Oct 2016, 11:35 AM