Present concentration of BOD5, BOD7 (mg O2/l) in rivers
Figure
Created 12 Nov 2009
Published 12 Nov 2009
Last modified 29 Nov 2012, 11:38 AM
Number of river monitoring stations included in analysis noted in brackets
/data-and-maps/figures/ga-downloads/B36C81E3-AA22-4CC8-98F5-9F6FD3374112/present-concentration-of-bod5-bod7-mg-o2-l-in-rivers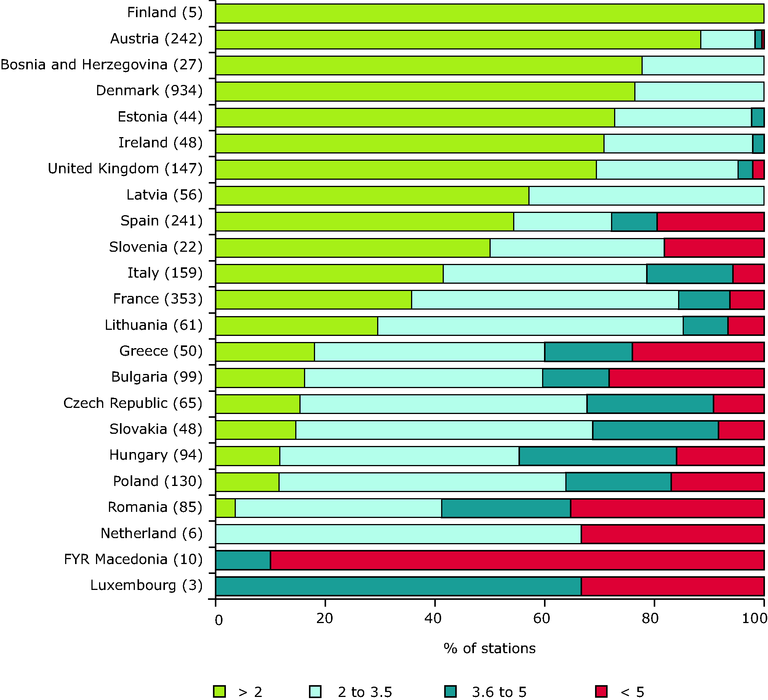 Download
European data
Metadata
Additional information
BOD5 data used for all countries except Estonia, Finland, Latvia and Lithuania where BOD7 data used. Data are from representative river stations. Stations that have no designation of type are assumed to be representative and are included in the analysis. The number of stations with annual means within each concentration band are calculated for the latest year for which data are available. The latest year is 2002 for all countries except the Netherlands (1998), Ireland (2000) and Romania (2001).
For references, please go to www.eea.europa.eu/soer or scan the QR code.
This briefing is part of the EEA's report The European Environment - State and Outlook 2015. The EEA is an official agency of the EU, tasked with providing information on Europe's environment.
PDF generated on 26 Oct 2016, 01:41 PM