Coastal bathing water quality in the European Union, 1990-2011
Figure
expired
Created 25 Sep 2012
Published 13 Nov 2012
Last modified 11 Sep 2015, 12:54 PM
Note: new version is available!
This content has been archived on
16 Jun 2015
, reason:
Other (New version data-and-maps/daviz/percentage-of-coastal-bathing-waters-1 was published)
The figure shows the bathing water quality in different European countries over time: 1990, 7 EU Member States; 1991 to 1994, 12 EU Member States; 1995-96, 14 EU Member States; 1997 to 2003, 15 EU Member States; 2004, 21 EU Member States; 2005-06, 25 EU Member States; 2007 to 2011, 27 EU Member States. Five Member States (Austria, the Czech Republic, Hungary, Luxembourg and Slovakia) have no coastal bathing waters. The quality classes under the New Bathing Water Directive (2006/7/EC) are jointed with compliance categories under the Bathing Water Directive (76/160/EEC).
/data-and-maps/figures/ga-downloads/KCJXAV275Y/percentage-compliance-of-eu-coastal-and-inland-bathing-waters-with-mandatory-standards-of-the-bathing-water-directive-1992-to-2006-for-eu-3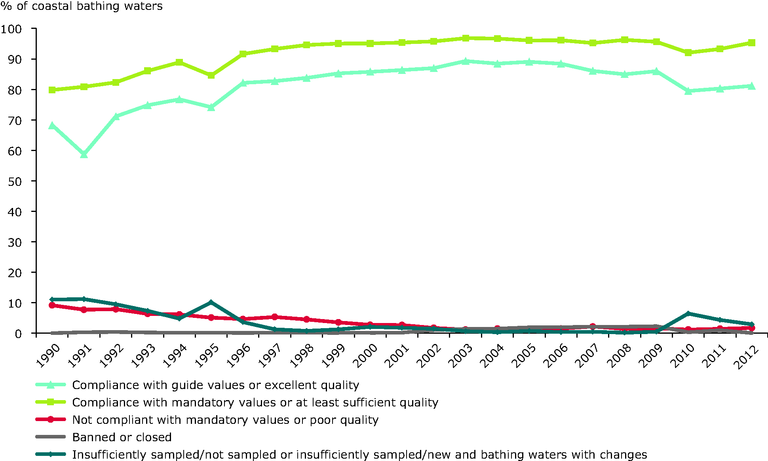 Download
European data
Metadata
Additional information
EU27 - 1990 (EU7); 1991-1994 (EU12); 1995-1996 (EU14); 1997-2003 (EU15); 2004 (EU21); 2005-2006 (EU25); 2007-2011 (EU27)
For references, please go to www.eea.europa.eu/soer or scan the QR code.
This briefing is part of the EEA's report The European Environment - State and Outlook 2015. The EEA is an official agency of the EU, tasked with providing information on Europe's environment.
PDF generated on 28 Oct 2016, 03:04 PM