Actual and projected greenhouse gas emissions aggregated for new Member States
Figure
Created 12 Nov 2009
Published 12 Nov 2009
Last modified 29 Nov 2012, 11:41 AM
Data exclude emissions and removals from land use change and forestry
/data-and-maps/figures/ga-downloads/88718215-6F8B-49A2-9476-C855B9FC36CD/actual-and-projected-greenhouse-gas-emissions-aggregated-for-new-member-states-2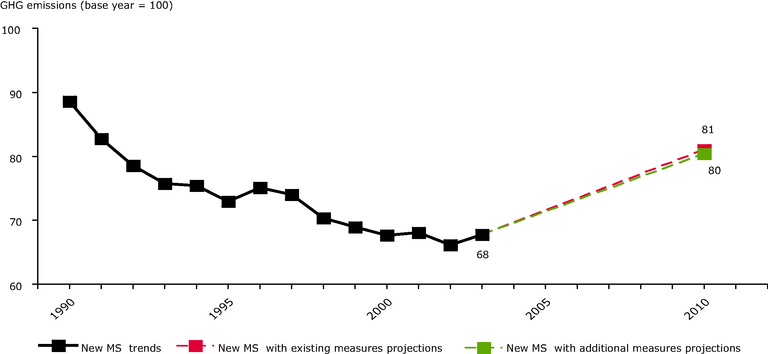 Download
European data
Metadata
Additional information
The figure refers to a theoretical 'aggregated new EU Member States base-year' as 100 in order to allow a consistent analysis of greenhouse gas emission trends and projections. This base-year has no legal status. It is 1990 for most Member States for CO2, methane (CH4) and nitrous oxide (N2O) but 1995 for fluorinated gases, with the following exceptions: The base year for CO2, CH4 and N2O for Hungary is the average of 1985-1987, for Slovenia 1986 and for Poland 1988. This means that the value for 1990 is not exactly 100. Due to lack of data, Cyprus and Malta are not included.
For references, please go to www.eea.europa.eu/soer or scan the QR code.
This briefing is part of the EEA's report The European Environment - State and Outlook 2015. The EEA is an official agency of the EU, tasked with providing information on Europe's environment.
PDF generated on 24 Oct 2016, 03:37 PM