Awareness raising: Posters and stickers
Page
Last modified 03 Jun 2016, 04:57 PM
We tend to need frequent reminders through different channels if we are to change our behaviour and keep environmental considerations at the forefront of our minds. If you work as en environmental coordinator, or you are in charge of an environmental improvement project in your organisation, you may find some inspiration by looking through our visual communications to the staff. On this page you find a couple of posters that we have used on our elevator doors and a sticker we have attached next to most of the light contacts. You are welcome to download the files and use the material in your organisation.


Posters
Stickers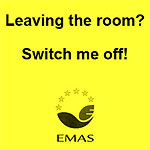 For references, please go to www.eea.europa.eu/soer or scan the QR code.
This briefing is part of the EEA's report The European Environment - State and Outlook 2015. The EEA is an official agency of the EU, tasked with providing information on Europe's environment.
PDF generated on 26 Oct 2016, 11:41 PM