Global annual average temperature deviations, 1850-2008, relative to the 1850-1899 average (in ºC). The lines refer to 10-year moving average, the bars to the annual 'land and ocean' global average.
Figure
Created 12 Nov 2009
Published 12 Nov 2009
Last modified 29 Nov 2012, 11:41 AM
Note: new version is available!
The source of the original data is the Climatic Research Unit of the University of East Anglia
/data-and-maps/figures/ga-downloads/6B6B19CD-D52E-4BF0-A3F4-C7CADB94310A/global-annual-average-temperature-deviations-1850-2007-relative-to-the-1850-1899-average-in-oc-the-lines-refer-to-10-year-moving-average-the-bars-to-the-annual-land-and-ocean-global-average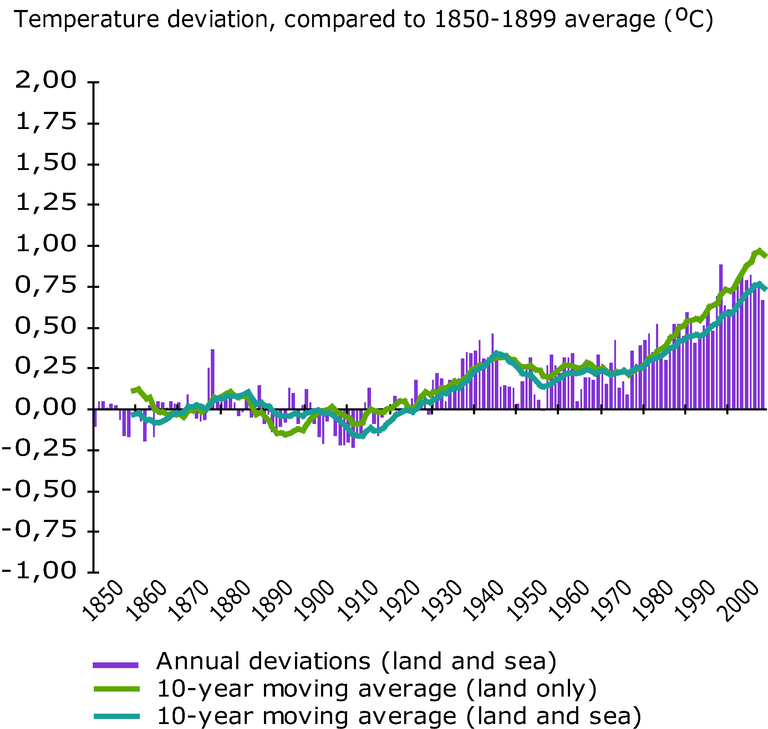 Download
European data
Metadata
Additional information
The global mean annual temperature deviations are in the source in relation to the base period 1961-1990. The annual deviations shown in the chart have been adjusted to be relative to the period 1850-1899 to better monitor the EU objective not to exceed 2oC above pre-industrial values. Over Europe average annual temperatures during the real pre-industrial period (1750-1799) were very similar to those during 1850-99.
Geographical coverage note: World
Permalinks
Permalink to this version

Permalink to latest version