Freshwater - Outlook 2020 (United Kingdom)
SOER 2010 Common environmental theme (Deprecated)
expired
This content has been archived on
21 Mar 2015
, reason:
A new version has been published
SOER Common environmental theme from United Kingdom
Topic

Freshwater
Published: 26 Nov 2010 Modified: 21 Mar 2015
2015 predictions for water bodies classified as 'good' overall status compared to 2009 are shown below
Percentage of water bodies classified as Good overall status1, 2009 and 2015

Country

England

Wales

Scotland

Northern Ireland

Year

2008

2015

2008

2015

2008

2015

2008

2015

Rivers

25

29

29

39

56

63

20

56

Lakes

35

36

39

39

66

71

27

32

Estuaries

8

8

29

29

85

85

0

29

Coasts

35

36

67

67

94

97

40

65

All surface waters

26

30

31

39

64

69

21

55

Groundwater

38

39

69

69

76

85

97

97

All waters

26

30

32

40

65

71

28

59

Notes:

1. Figures include 'overall potential' where water bodies are artificial or heavily modified. Some water bodies will never achieve good overall status because they have been physically altered for a specific use, such as navigation, recreation, water storage or flood protection. Overall potential is based on the quality that can be achieved given a water bodies changed conditions.
Under the current 'High Emissions' climate change scenario, precipitation in the 2080s in the South East would decrease by 50 per cent in summer, and increase by up to 30 per cent in winter, whereas in the North West, it may decrease by 30-40 per cent in summer and increase by 20-25 per cent in winter. Unless we change our current water management and behaviour, we will face serious threats both to the security of our water supplies and to the health of our water environments and nature conservation sites.
Population growth and changes in household size mean more houses are needed in some areas where abstraction is not currently sustainable.
The probability and severity of flooding is likely to increase in the future due to climate change and human actions. Figure 9 shows the different levels of damage that could occur in the future as a result of differing levels of emissions and climate change.
Figure 9: Average annual damage from flooding across the UK expressed as a percentage of GDP – present day and different emission scenarios for the 2080s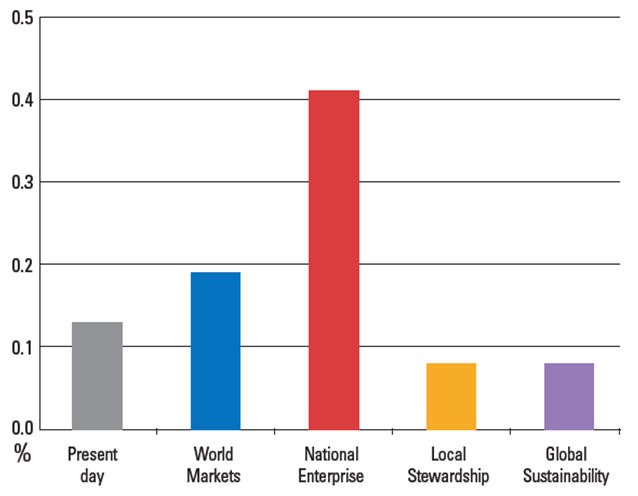 KEY
World Markets = High Emissions Scenario
National Enterprise = Medium-High Emissions Scenario
Local Stewardship = Medium-Low Emissions Scenario
Global Sustainability = Low Emissions Scenario
Source: Foresight: Future Flooding (2004)
For references, please go to www.eea.europa.eu/soer or scan the QR code.
This briefing is part of the EEA's report The European Environment - State and Outlook 2015. The EEA is an official agency of the EU, tasked with providing information on Europe's environment.
PDF generated on 24 Oct 2016, 02:08 AM