Land use - National Responses (Sweden)
Common environmental theme
Response. Links to further national information on land use.
Topic

Land
more info

Organisation name

Swedish Environmental Protection Agency

Reporting country

Sweden

Organisation website

Contact link

Last updated

23 Sep 2011

Content license

Content provider
Published
: 23 Oct 2010
Modified
: 12 May 2011
Feed synced
: 23 Sep 2011
original
Key message
Organic farming uses crop rotation and fertiliser from livestock raised organically. Areas of protected or certified forest land have increased.
Figures
Figure 1
FSC- and PEFC-labelled forest land.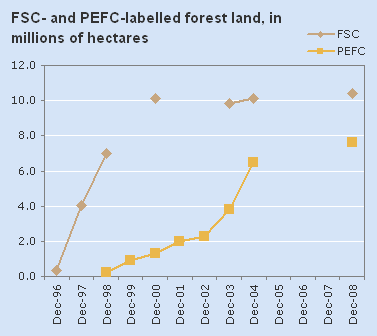 Fullscreen image
Original link
e) Which responses (R) have been put in place or are planned at national level for the theme in question?
Land is farmed organically
The goal of organic farming is to produce food in a way that protects animals and the environment and that is competitive in the long run. In farming, chemical pesticides and artificial fertilisers are replaced by other measures, such as crop rotation and fertiliser from livestock raised organically. In 1996, the share of organically farmed land was scarcely 6 %, and in 2008 more than 16 % of arable land was farmed organically. The peak share was almost 20 % in 2006.
See chart and map (in Swedish) at the Environmental Objectives Portal for:
share of farmed land with environmental support for organic farming.
Forest land is protected

Areas of forest land that are habitat protection areas, nature reserves or covered by nature conservation agreements have increased since 1998. But the increase is not sufficient if the interim target of 'Long-term protection of forest land' is to be reached by 2010.
See charts and maps (in Swedish) at the Environmental Objectives Portal for:
nature conservation agreements.
Eco-labelled forests increase

Areas of forest land that are certified according to FSC or PEFC labelling have increased since 1996 from 0.4 million hectares to about 16.6 million in 2004. PEFC-labelled forests have increased since 2004 to about 7.6 million hectares in 2008. In all, there were about 24 million hectares of forest land in 2005.
Related indicators
For references, please go to www.eea.europa.eu/soer or scan the QR code.
This briefing is part of the EEA's report The European Environment - State and Outlook 2015. The EEA is an official agency of the EU, tasked with providing information on Europe's environment.
PDF generated on 06 Mar 2015, 03:44 PM