Netherlands
Waste (Netherlands)
Why should we care about this issue
Topic

Waste
Published: 26 Nov 2010 Modified: 23 Nov 2010
Growing amounts of waste put pressure on waste treatment capacities, and waste management (landfill, treatment, collection) exacerbates environmental impacts. Waste disposal is a loss of resources. Improper waste management causes environmental pollution and can have impacts on human health. Proper waste management reduces environmental impact.
Especially in the Netherlands, which is a relatively small country with a high population density, the awareness of the possible risks of improper waste management has been the main driver for its waste policy. This policy started by regulating and planning the waste management market, which handles landfills, incineration and treatment of organic household waste. As a result, over 80 % of the waste is now recycled. Nowadays, landfills and incineration have very little environmental impact but still represent a loss of resources, some of which are becoming scarce. This has resulted in a new policy focus on materials and chain management rather than on waste.
The state and impacts
Published: 26 Nov 2010 Modified: 08 Apr 2011
Shift from landfills to recycling (and incineration)
The total waste production in the Netherlands grew from 47 Mt in 1985 to over 63 Mt in 2000. After 2000, the amounts of waste decreased, and are currently down to approximately 60 Mt. Over the past 25 years, the treatment of waste has also changed; in 1985, nearly 50 % of waste was disposed of, mostly in landfills.
The Dutch waste policy made recycling of waste a top priority. As a result, in 2007, only 3 % of the waste was landfilled, about 12 % was incinerated, and almost 85 % was recycled.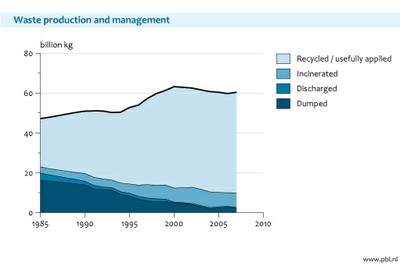 http://www.milieuennatuurcompendium.nl/indicatoren/nl0204-Afvalproductie-en-wijze-van-verwerking.html?i=1-4
These trends are similar for production and treatment of household (or domestic) waste: in 1985, over 50 % of household waste was landfilled, and in 2007 this was less than 5 %. The amount of recycling increased from 18 to 53 %.
Despite specific efforts to prevent the production of household waste, the amount grew by almost 73 % between 1985 and 2007.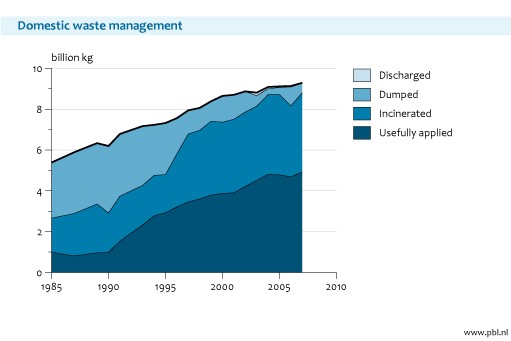 http://www.milieuennatuurcompendium.nl/indicatoren/nl0392-Verwerking-afval-van-huishoudens.html?i=1-4
The ongoing trend to minimise the use of landfills is also reflected in the number of landfill sites. In less than 20 years, the number of active sites was reduced by nearly 75 %. All these sites comply with the environmental standards for minimising the environmental impact.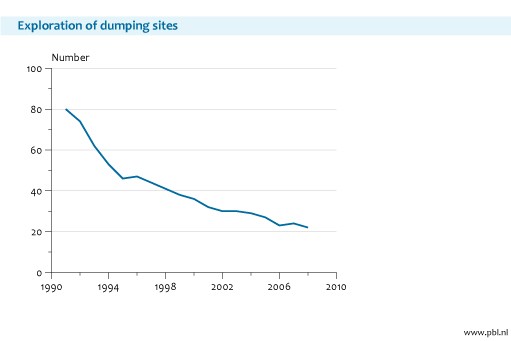 Bron: Afvalverwerking in Nederland, gegevens 2008, Werkgroep Afvalregistratie november 2009
The composition of household waste has changed dramatically over the years. In 1940, 64 % of residual household waste was organic and 22 % consisted of paper. Nearly 70 years later, organic waste makes up one-third, and 20 % of residual waste is in plastics. With this change in composition, the environmental pressure (from landfills and incineration) has also changed.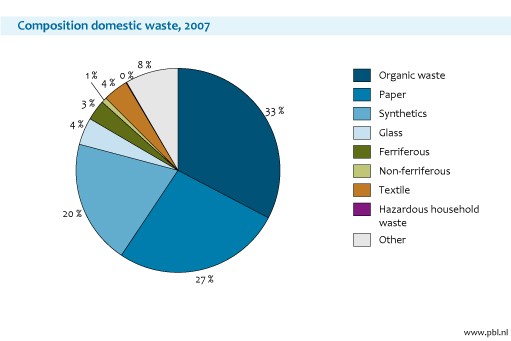 http://www.milieuennatuurcompendium.nl/indicatoren/nl0141-Samenstelling-restafval-huishoudens.html?i=1-4
Prevention of waste generation
In the Netherlands, the total amount of waste produced has been brought down. However, this is not the case in all the individual waste streams, or in those coming from different sectors. In the graph below, the waste that is produced within some of the sectors is related to the development of GDP since 1995. For most sectors there is a decoupling between waste generation and GDP, but this does not apply to household waste (not in the graph), which increases more or less at the same rate as GDP.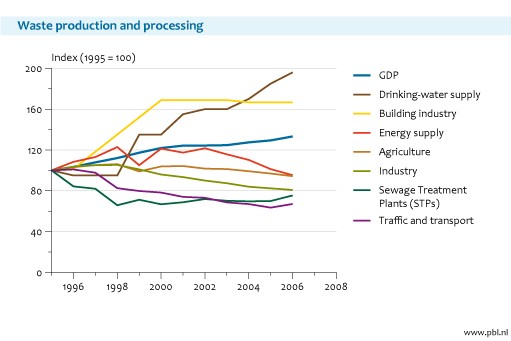 Bron: Voortgangsrapportage LAP1, Ministerie VROM, 2009
Since 1990, greenhouse gas emissions from the waste sector have been decreasing. In 1990, emissions of GHG from this sector was 12.8 Tg CO2 eq. In 2007, this was 6.0 Tg CO2 eq. The decrease is mainly due to:
Increased recovery and recycling, resulting in a decreasing amount of solid waste deposited in landfills;
Decreasing amounts of organic waste deposited in landfills;
Increased CH4 recovery from landfills.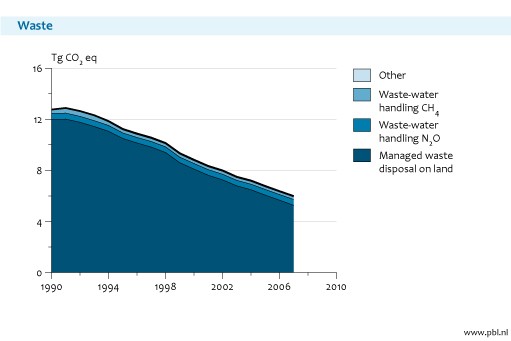 Source: Greenhouse Gas Emissions in the Netherlands 1990-2007, National Inventory Report 2009, Planbureau voor de Leefomgeving
The key drivers and pressures
Published: 26 Nov 2010 Modified: 08 Apr 2011
The Dutch population has grown to 16.49 million inhabitants in 2009. Life expectancy is still increasing, both for men and women. The number of households (7.24 million in 2009) is increasing faster than the population. As a result, the production of household waste has also grown, every year, and there is no decoupling with the GDP development.
In industry, where decoupling does exist, the amount of industrial waste has decreased over the last six years by more than 15 % (while GDP grew by almost 15 %). This waste reduction has been realised 1) because of the high cost of waste treatment in the Netherlands, and 2) because part of the production industry has moved to other countries (and has been replaced by service providers).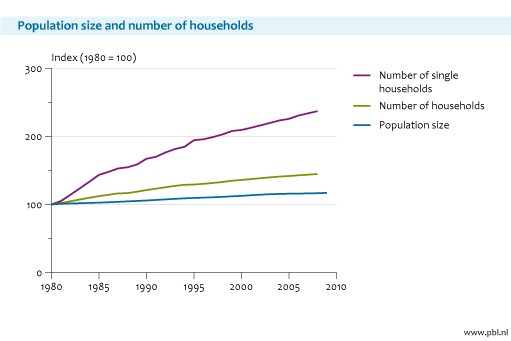 http://www.milieuennatuurcompendium.nl/indicatoren/nl0001-Bevolkingsomvang-en-huishoudens.html?i=15-12
The 2020 outlook
Published: 26 Nov 2010 Modified: 08 Apr 2011
For the new Waste Management Plan 2009-2021 (LAP2), projections were made for waste production and treatment up to 2021. Based on four different scenarios by the Dutch Bureau for Economic Policy Analysis (CPB), the amount of waste will increase from 60 to between 66 and 85 Mt by 2021 (average of 73 Mt).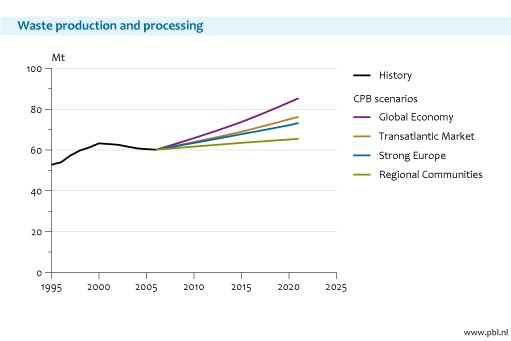 http://lap2.nl/sn_documents/files/05%20achtergronden%20blk/Prognosedocument_LAP2.pdf
With regard to waste treatment, the focus will remain on recycling (85 % in 2021), and the deposits of combustible waste streams in landfills will be stopped. These objectives and targets are included in the LAP2 (http://www.LAP2.nl).
http://lap2.nl/sn_documents/files/05%20achtergronden%20blk/Prognosedocument_LAP2.pdf
The impact of waste and waste treatment on the environment and on human health is not quantified separately but is expected to be rather limited.
Existing and planned responses
Published: 26 Nov 2010 Modified: 23 Nov 2010
Because of the environmental implications and the EU Waste Framework Directives (2006/12/EG and 2008/98/EG), national waste management plans have to be drawn up every six years. The most recent Second Waste Management Plan LAP2 for the period 2009-2021 http://www.LAP2.nl is in line with all national and international Directives and policies. The major objectives are:
Stimulating waste prevention;
Increasing recycling (of all waste in general, and of household waste in particular);
Reducing the deposit of combustible waste in landfills to zero, by 2021;
Reducing the environmental impact (from production to treatment) of seven specific waste streams (e.g., waste from construction and demolition, PVC, textile, food, and paper).
An overview of waste policy instruments applied in the Netherlands is given in the fact sheet on Dutch waste in Eionet:
http://scp.eionet.europa.eu/facts/factsheets_waste/2009_edition/factsheet?country=NL
For household waste see: OECD (2007) Instrument mixes for Environmental Policy; chapter 2 'Instrument Mixes Addressing Household Waste Generation'.
For references, please go to www.eea.europa.eu/soer or scan the QR code.
This briefing is part of the EEA's report The European Environment - State and Outlook 2015. The EEA is an official agency of the EU, tasked with providing information on Europe's environment.
PDF generated on 07 Mar 2015, 05:23 AM