Netherlands
Nature protection and biodiversity (Netherlands)
Why should we care about this issue
Topic

Nature and biodiversity
Published: 26 Nov 2010 Modified: 08 Apr 2011
Biodiversity in the Netherlands has been steadily decreasing over the past century (Figure 1). The number of species has decreased and, for many species, there has been a large decrease in both population size and distribution area. Although this loss has slowed down, it is on a low biodiversity level. About 8 % of the Dutch breeding birds, mammals, reptiles, amphibians and butterflies have become extinct, and about 40 % of current species are listed on the Dutch Red Lists as vulnerable, endangered or critically endangered (see Van Veen et al. (2008) for a summary). Moreover, the number of red-listed species is still increasing, which shows that species depending on specific habitats and environmental conditions are still declining. The National Ecological Network was initiated in 1990. This network has not only halted the loss of natural habitats, but also succeeded in extending natural habitats by converting farmland to nature. The Natura 2000 network is integrated in the National Ecological Network.
Figure 1. The original biodiversity in the Netherlands has been severely reduced over the past centuries. It has reached a low level, compared to other European and world ecosystems. SEBI indicator 01. Source: Van Veen et al., 2008.
Alien species enter the Netherlands via new water connections and international transport routes. Nowadays, alien species outnumber original species in the large Dutch rivers (Figure 2). On land, at least 145 alien plant species have settled in the Netherlands, mostly in urban regions (van der Weijden et al., 2007). Native species still occur, and it is not clear yet to which extent alien species are invasive and will replace native ones. Climate change causes shifts in species distribution, which are noticeable even in a country as small as the Netherlands. For a selection of species, the trends show that populations with a preference for a cool environment are decreasing, while species that prefer a warmer climate are increasing.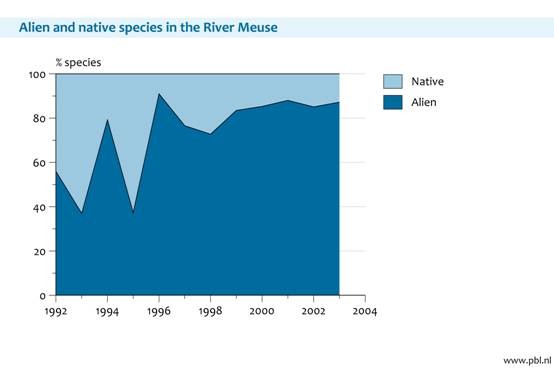 Figure 2. Portion of alien species in the River Meuse. SEBI indicator 10. Source: Van Veen et al., 2008.
The Netherlands is an urbanised country that uses natural areas for recreation. For example, in 2001 and 2002, the combined nature areas drew about 110 million day visitors with visits lasting at least two hours (Elands and Van Koppen, 2007). Generally, visitors' main activities are walking, cycling, sunbathing, swimming and having a picnic. Questionnaires indicate that natural areas are visited more frequently than other recreational destinations, such as fun parks.
The state and impacts
Published: 26 Nov 2010 Modified: 08 Apr 2011
The average numbers of all species of vascular plants and breeding birds per square kilometre are increasing in nature areas, while butterflies continue to decrease (Figure 3). This is the result of improved environmental conditions and an increase in nature area by converting farmland to nature. The discrepancy with the trend of red-listed species (Figure 5) suggests that the more common species profited most from the improvements that were carried out from 1990 onwards. In agricultural areas, the average number of species per square kilometre continues to decrease at a fast pace.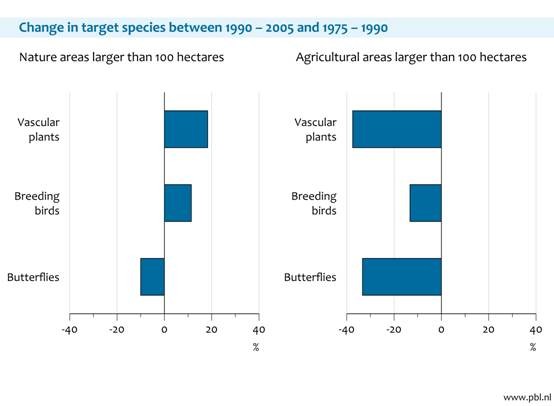 Figure 3. In nature areas, the average numbers of vascular plants and breeding birds are increasing, while in agricultural areas, the numbers of vascular plants, breeding birds and butterflies are still decreasing. The species selected for the figure are the target species of Dutch nature policy. SEBI indicator 01. Source: PBL (2009), Van Swaaij (2009).
The conservation status of many habitat types found in the Netherlands protected under the Habitats Directive is unfavourable (Figure 4). Only 10 % of the habitat types have a favourable conservation status. Compared to the European average, the number of habitat types in the Netherlands with the conservation status 'unfavourable – inadequate' is large, while the number of habitats with favourable conservation status is low.
Figure 4. The conservation status of 90 % of the habitat types and species protected under the Habitats directive found in the Netherlands is unfavourable. Bird species fare better, with about half the species in an unfavourable conservation status. SEBI indicator 3. Source: Dutch Ministry of Agriculture, Nature and Food Quality, PBL (2009).
In the Netherlands, the average population trend of the species on the Red Lists has not changed for the better during the past decade (Figure 5). While the average population trend of all species together is only slightly decreasing, Red-Listed species show, on average, a severe decrease in population size. In contrast to this average trend, some habitats and their species show recovery. Pioneer vegetations in new or restored nature areas are recovering, and the Red-Listed species that belong to this habitat are increasing. Fresh waters, forests and marshes also show a stabilisation or even recovery of biodiversity trends (State of the Nature 2009, PBL, 2009). Climate change causes a change in species composition in the Netherlands (Figure 6): cold preferent species decrease, warmth preferent species increase.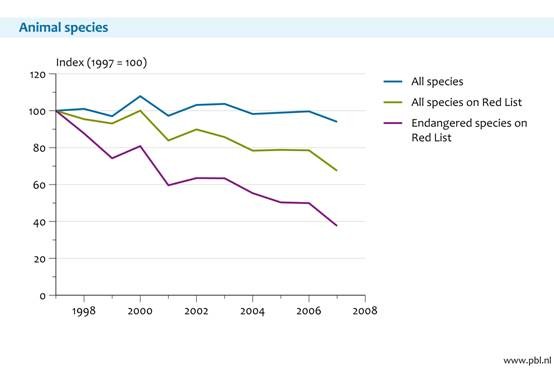 Figure 5. Red-listed butterflies, breeding birds, mammals, amphibians and reptiles, on average, still decrease in population sizes and distribution areas. The endangered red-listed species decrease even faster. Although red-listed species fare better in some habitats, for instance, in pioneer situations on sands, the situation of most of them is worsening. SEBI indicator 02. Source: PBL (2009) Ecological Monitoring Network, and Statistics Netherlands.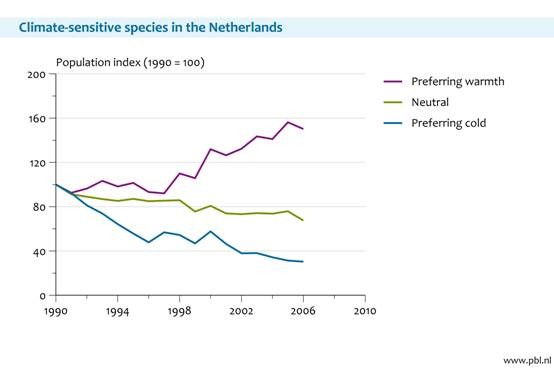 Figure 6. Climate change causes shifts in the species composition in the Netherlands. SEBI indicator 11. Source: Van Veen et al., 2008.
The selection of a few productive breeds of livestock resulted in a low genetic diversity. In the Netherlands, these productive breeds dominate livestock (Figure 7). Other breeds are marginally present, mostly in non-productive settings. For poultry, for example, the remaining 20 old Dutch breeds only represent 0.02 % of the total number of animals.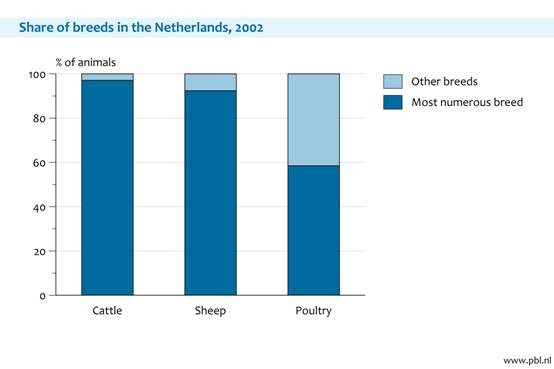 Figure 7. Dutch livestock largely consists of a single or very few highly productive breeds which are globally used.
The Dutch biodiversity footprint on land outside the Netherlands corresponds to an area of about three times the size of the Netherlands (Figure 8). This area is the result of a recalculation to the area that has lost its entire biodiversity. Outlooks predict that this area will increase further, showing a continuing impact of Dutch consumption on global biodiversity.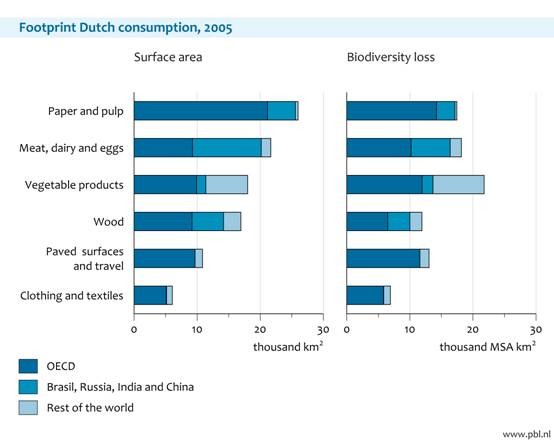 Figure 8. Consumption footprint of the Netherlands, in terms of area (left) and of biodiversity loss (right, recalculated to area with complete loss of biodiversity). SEBI indicator 23. Source: PBL, 2009.
The key drivers and pressures
Published: 26 Nov 2010 Modified: 08 Apr 2011
The decrease in biodiversity in the Netherlands over the past century is mainly caused by the transition to intensive, large-scale agriculture. Agricultural land was optimised by lowering water tables and by the use of fertilisers and pesticides. Low-production, small-size parcels were enlarged and improved, leaving less room for natural elements alongside them. Extension of productive agricultural land led to loss of natural habitat loss and ecosystems. The reduction in nature areas resulted in increasing fragmentation of ecosystems.
Intensive livestock farming, especially of pigs and cattle, led to high emissions of ammonia and phosphorus (Figure 9, 10). Atmospheric nitrogen deposition on terrestrial ecosystems and the input of nitrogen and phosphorus in water made habitats and species that depend on nutrient-poor or wet conditions decrease even more.
In addition, building activities, such as roads and urban expansions, also led to habitat loss and a fragmentation of nature areas. Species with large home ranges, for example, otters and pine martens, find it difficult to survive in fragmented ecosystems. In aquatic ecosystems, migrating fish need access to the entire water system, but are hindered by dams that are used to regulate these water systems.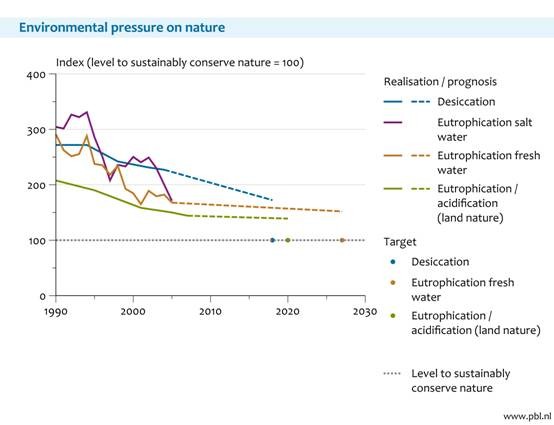 Figure 9. Environmental pressures are decreasing in the Netherlands, although the targets have not been reached. SEBI indicator 9. Source: PBL, 2009.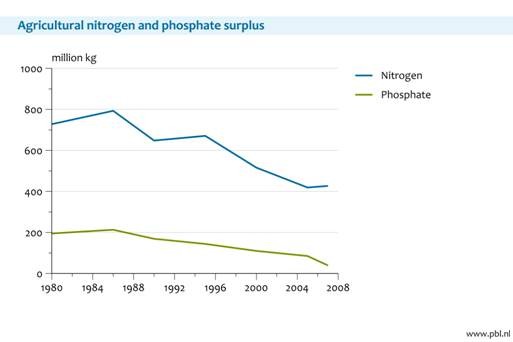 Figure 10. Agricultural nitrogen and phosphate surplus decreased over the past decades in the Netherlands. However, the nitrogen surplus has been stabilising over the past years. SEBI indicator 19/20. Source: Van Veen et al., 2008.
The 2020 outlook
Published: 26 Nov 2010 Modified: 08 Apr 2011
It is expected that nitrogen emissions and eutrophication of waters will hardly decrease under the present policy and planned measures (Figure 9). In 2007 the Dutch Government and the provinces agreed to prioritise the raising of groundwater tables to restore wet nature areas. To comply with the Habitats Directive, Natura 2000 is prioritised in these actions. If these measures are taken, the abiotic quality will improve. The gain in new protected nature areas is not fast enough to reach the Dutch policy goal for the total amount of protected areas (Figure 11) in 2018. Because many red-listed species depend on specific conditions in protected nature areas, the above may implicate that the Red List will not be shorter in 2020. Climate change is expected to keep altering the species composition in the Netherlands, as is the case for the whole of Europe.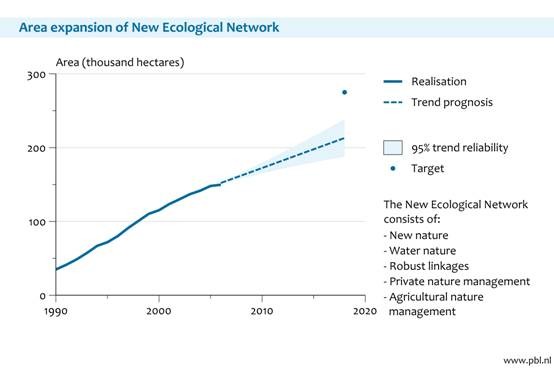 Figure 11. Nature areas within the Netherlands increase through the conversion of farmland. SEBI indicator 7/8. Source: Dutch Ministry of LNV, the Netherlands, PBL (2009).
Existing and planned responses
Published: 26 Nov 2010 Modified: 23 Nov 2010
In 1990, the Dutch Government established the National Ecological Network to protect and expand nature areas and to reduce fragmentation. Due to this governmental policy, farmland was bought and converted to nature, leading to an increase in nature areas in the Netherlands (Figure 11). In addition, agro-environmental schemes where implemented as part of the National Ecological Network to protect biodiversity in the agricultural landscape. To diminish ecosystem fragmentation, a number of government interventions were made. First, nature areas were expanded, creating space for species requiring extended home ranges and creating connections between nature areas. Second, the construction of so-called wildlife crossings (ecoducts) were established, over and under infrastructure, allowing animals to cross these areas safely. Badgers, for example, increased in number and distribution area because of these measures. Third, fish passes in water systems are built to provide access for migrating fish to a larger part of streams.
Environmental pressure on nature areas decreased over the past decades through government interventions, although target levels have not been reached (Figure 9). The reduction in eutrophication of freshwater and marine ecosystems is mainly achieved by improved household and industrial wastewater treatment. Reduction in nitrogen emissions from farms and traffic and a reduced surplus of nitrogen and phosphorus applied to farmland (Figure 10) helped to decrease nitrogen deposition in nature areas. Groundwater tables could only be raised in a limited number of nature areas, thus, only part of the wet habitats could be recovered.
References
Elands, B.H.M. & C.S.A. van Koppen. (2007) Public awareness and participation. Report 53.12, Statutory Research Tasks Unit for Nature and the Environment. Wageningen, the Netherlands.
PBL. 2009. Natuurbalans 2009 (State of the Nature 2009). PBL publication 500402017, Planbureau voor de Leefomgeving, Bilthoven, the Netherlands. Report: http://www.mnp.nl/bibliotheek/rapporten/500402017.pdf; English summary: http://www.pbl.nl/images/Nature_Balance_2009_-_Summary_tcm61-44828.pdf
Van Swaaij C. 2009. Trendanalyse doelsoorten dagvlinders ten bate van de Natuurbalans 2009. Rapport VS2009.011, Vlinderstichting, Wageningen, the Netherlands.
Van Veen M.P., B.J.E. ten Brink, L.C. Braat and Th.C.P. Melman. 2008. Halting biodiversity loss in the Netherlands: evaluation of progress. Planbureau voor de Leefomgeving, Bilthoven, The Netherlands. http://www.rivm.nl/bibliotheek/digitaaldepot/HaltingBiodiversityLossInTheNetherlands.pdf
Van der Weijden, W.J., R. Leewis & P. Bol. (2007) Indicatoren voor het invasieproces van exotische organismen in Nederland. Report 53.6, Statutory Research Tasks Unit for Nature and the Environment. Wageningen, the Netherlands.
For references, please go to www.eea.europa.eu/soer or scan the QR code.
This briefing is part of the EEA's report The European Environment - State and Outlook 2015. The EEA is an official agency of the EU, tasked with providing information on Europe's environment.
PDF generated on 06 Mar 2015, 01:17 AM