Malta
Country profile - Distinguishing factors (Malta)
Malta's small-island state nature, high population density and location at the southern tip of Europe are important distinguishing factors that set Malta apart from many other European nations. These characteristics, particularly its strategic location, have driven much of its socio-economic and cultural history, and thus land cover (Map 1). These factors have also influenced its governance style and practices, which over the last decade have been under review in the light of the EU membership. They also influence which environmental issues are viewed with most concern. For example, the emblematic environmental issues of the eighties and nineties were mainly land-use and waste-related.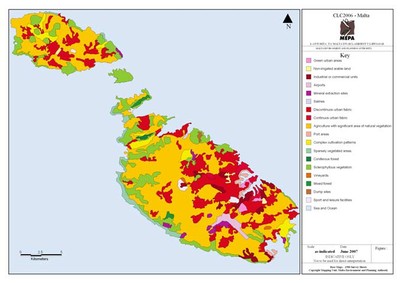 Map 1: Land cover by type (2006)
Browse by topic
Search
For references, please go to www.eea.europa.eu/soer or scan the QR code.
This briefing is part of the EEA's report The European Environment - State and Outlook 2015. The EEA is an official agency of the EU, tasked with providing information on Europe's environment.
PDF generated on 05 Mar 2015, 04:59 PM