Montenegro
Nature protection and biodiversity (Montenegro)
Why should we care about this issue
Topic

Nature and biodiversity
Published: 26 Nov 2010 Modified: 22 Dec 2010
Biodiversity is the diversity of the flora and fauna on our planet. By losing diversity, species, eco-systems and genetic diversity disappear, which definitely influences the human population. Biodiversity is a source of goods, resources and ecological services which are necessary for the survival of life.
The diversity of geological background, areas, climate and landscape, as well as the position of Montenegro in the Balkans and on the Adriatic, provide conditions for very high biological diversity, making Montenegro one of the hot spots of European and world biodiversity. Montenegro has two World Heritage sites, one biosphere reserve and four national parks. So, it is not surprising that Conservation International marked Montenegro as one of the four key spots of biodiversity in Europe and Central Asia. However, development in Montenegro in the last couple of years has brought significant pressures on biodiversity, including: increased urbanisation – mainly in the narrow strip along the coast, on the central plain and around the systems of natural lakes; increase in illegal construction and development in and around protected areas and along much of the coastal area and around mountain resorts; outflow and swamp pollution as a result of intense agricultural activities; illegal deforestation, illegal removal of river pebbles, illegal fishing and other illegal use of natural resources.
The state and impacts
Published: 26 Nov 2010 Modified: 08 Apr 2011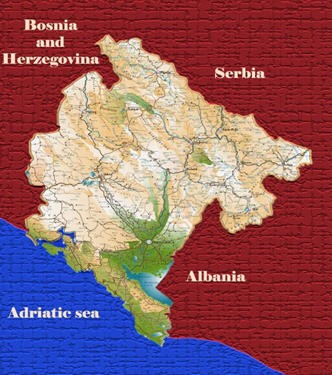 Picture 1 Map of Montenegro
Source: Environmental Protection Agency of Montenegro
In terms of wealth of flora and fauna and diversity of ecosystems Montenegro is among the leading countries of Europe.The results of a monitoring programme suggest that adverse consequences for biodiversity are mostly visible in aquatic ecosystems and forests, and then in urban and agricultural areas. The vulnerability of different ecosystems differ and depends on the intensity of the anthropogenic causes of vulnerability. In that sense, the biggest pressure is on forest vegetation because of constant exploitation. Coastal ecosystems are also endangered because of changing these natural habitats through deveopment. Aquatic ecosystems are under pressure from different forms of pollution, which reduce their productivity.
The national network of protected areas currently covers 108 866 ha, or 7.88% of the territory of Montenegro, of which four national parks have the biggest impact: Durmitor, Skadar Lake, Lovcen and Biogradska Gora.
As a small European country and because of its geographical position, distribution, heterogeneity of habitats, topography, geological past and climate variations, Montenegro is characterised with high biodiversity in most taxonomic groups. Freshwater algae show a high level of diversity: 1 200 species and varieties so far described, including a group of siliceous algae (Bacillariophyta) and green algae. By far the most significant location for algae in Montenegro is Skadar lake. More than 300 classes of macro algae have been recorded in Montenegrin sea waters – and there are probably more) – of which the majority are red algae (Rhodophyta).
On the teritorry of Montenegro 589 species of Briophita have been recorded, which include 483 types of moss and 106 marrubium vulgare. This is more than in most of the surrounding countries, but this may be the result of limited research on these groups.The Balkan peninsula, which includes Montenegro, is the most diverse area of Europe for vascular plants, with 7 000-8 000 recorded species. There are 3 250 species of vascular flora in Montenegro. The number of endemic species is also high – there are 392 Balkan (regional) endemic species, more than 7 % of the Montenegrin flora.
Terrestrial invertebrates are a very large group of animals with many types, of which many are poorly studied in Montenegro. Until now, the most studied types include molluscs with 323 recorded species: 136 types of terrestrial snails which are considered to have international significance, mostly endemic species; articulated worms, Oligochaeta with 27 recorded species. There are 16 000-20 000 estimated species of anthropoda, but it is estimated that the number of insect species is actually more than 25 000.
Data on marine invertebrates suggest relatively high diversity, but also a low degree of endemicity. For example, around 50 of 101 species of echinodermata which appear in the Adriatic sea in Montenegro have been recorded: 127 species of shells have been recorded in the inner part of Boka Kotorska (Kotor-Risan bay) with an estimated 250-300 species in Montenegrin waters; and 17 species of cephalopods have been recorded in an open part of the Montenegrin coast.
Among the most significant areas inhabitated by freshwater fish is Skadar Lake, where 40 species of fish have been recorded, including species which migrate from sea to the freshwater ecosystem, including eel (Anguilla anguilla), cubla (Alossa falax nilotica) and others. The diversity of fauna of saltwater fish in the Adriatic sea includes 117 recorded families, but a low level of endemism. Until now for Montenegro, 40 742 species of saltwater fish have been recorded, which represent around 70 % of the species recorded in the Mediterranean.
Montenegro has a diversity of coastal and aquatic amphibians and reptiles, including lizards, snakes, turtles, frogs, toad frogs and sea turtle. Till now 56 species – 18 species of amphbians and 38 species of reptiles – and 69 subspecies have been recorded from 38 genera, and the list is probably not final. The mountain regions of Lovcen and Prokletija are paticular hot spots of diversity of amphbians and reptiles.
The location of Montenegro along long paths of migration – the Adriatic route of migrating birds – and its diversity of natural habitats result in a high diversity of bird species. Of all 526 European bird species, 333 are regularly present in Montenegro. As a significant habitat of water birds, Skadar Lake was included in the Ramsar list of wetlands of international importance in 1996.
Montenegro has a rich fauna of mammals with the highest number in forested mountains in the north. Apart from the investigation of some species, for example brown bear (Ursus arctos) and bats in Ulcinj and the area of Arsenal, and assessments of the scale and types of hunting made by hunting organisations, there are no systematic data on sizes of populations of mammals.
Adding together national (108 866 ha) and international (237 899 ha) protected national areas, regardless of the existence and forms of management, and avoiding overlapping/doubling, there are 252 459 ha under protection, which represents 18,27 % of the state territory.
With 3 250 species of plants found in high numbers, Montenegro is one of the most diverse areas for flora, which can be compared only with Greece and Bulgaria. The situation is similar for the index for density of nesting birds which is 0.557 for Montenegro, higher than the whole Balkan peninsula (0.435).
Agriculture is a relatively large part of Montenegrin GDP, 11.3 %, and rests directly upon biological diversity, through provision of food – meat, vegetables, etc. – and materials – leather, wool, etc. – while the diversity of exploited species, agri-biodiversity, contributes to food security. Under current economic development conditions , agriculture remains a low productivity sector based on a large number, 60 043, of private holdings covering around 96.3 % of arable and livestock land. Holding companies and cooperatives cover 7 040 ha of arable area, of which 828 ha are fields, 376 ha orchards, 1 891 ha vineyards and 3 945 ha meadows (Table 1). Of the total surface area, forests and forest land cover 744 000 ha or 54 % of the state teritorry, of which 621 000 ha are forested – 45 % of the state territory, while 123 000 ha are bare forest soil – 9 %. Together with Scandinavian countries with 0.9ha of forest per citizen, Montenegro is one of the countries with most forests with great potential for recreation and tourism. Forests and forest land in state holdings cover 500 000 ha or 67 % of the total while forests and forest grounds in private holdings cover 244 000 ha or 33 %. Total growing stock in the forests of Montenegro is estimated at 72 million m3, of which 29.5 million or 41 % is conifers and 42.5 million or 59 % is deciduous. Forests for expoitation cover 348 000 ha or 81 % of all forests, while protected forests covers 66 000 ha or 16 %, with forests in national parks covering 12 975ha or 3 %.
Table 1. Land use by holding companies and cooperatives
| | |
| --- | --- |
| fields | 828 ha |
| orchards | 376 ha |
| vineyards | 1 891 ha |
| meadows | 3 945 ha |
Table 2. Representation of forest types
| | | |
| --- | --- | --- |
| Type | Area covered | Percentage |
| State of Montenegro | 13 812 sq km | |
| Forest | 621 000ha | 45% |
| Bare forest soil | 123 000ha | 9% |
| Total forests and forest lands | 744 000 ha | 54% |
| State property | 500 000 ha | 67% |
| Private holdings | 244 000 ha | 33% |
| Forest for growing stocks | 348 000ha | 81% |
| Protected forests | 66 000 ha | 16% |
| National parks forests | 12 975ha | 3% |
Despite being exposed to numerous pressures, biodiversity and other natural and landscape values in Montenegro are largely preserved. The most significant pressures include the direct use of natural resourses, intense and unbalanced development of tourism and urbanisation, conversion of some habitats into semi-natural and artificial land, and wastewater and solid waste pollution. The nationally protected area is 7.72 % which is mostly composed of four national parks. A significant part of the teritorry, 17.2 %, is internationally protected as being of exceptional natural and cultural value, or as wetlands of international significance – under the criteria, respectively, of the UNESCO World Natural and Cultural Heritage and Man and Biosphere Reserve Commission programme and the Ramsar Convention. Although previous protection has essentially covered all key areas of biodiversity – biocentres and biocorridors – EMERALD and Natura 2000 have not been implemented.
Finally, knowledge of biodiversity is not systematic, and is scattered throughout the expert and scientific literature; thus, there are insufficient scientific inventories of numerous taxonomic groups. Monitoring of the state of biodiversity is not sufficient and does not provide the necessary level of information.
The ministries in charge of environment and health should work together with public health institutions to determine priority environmental health risks, develop well-targeted policies and campaigns to remove them, as in the case of phasing-out lead in petrol, and integrate environmental health objectives into overall development plans. Health effects should be used as an important factor in setting priorities and schedules for adoption and implementation of EU environmental standards.
The key drivers and pressures
Published: 26 Nov 2010 Modified: 22 Dec 2010
Generally, knowledge of the biodiversity of Montenegro is quite weak, with many loopholes, lack of inventories, as well as data on population dynamics, ecosystems and levels of genetic variation of many species. This limits the devising and making of adequate measures of protection, primarily for rivers and endangered species in Montenegro, and the general lack of data on biodiversity limits the monitoring of ecological changes. In general there is little direct information about whether biological resources are being used in a sustainable way, which is a reflection of an insufficient level of state monitoring in this area. On the other hand, there are certain indicators that some species are being over-exploited and natural resource management is not based on a solid model of sustainable use.
The main pressures on biodiversity are anthropogenic and this is reflected in the following:
Degradation of natural habitats and their replacement with secondary or entirely artificial habitats which are unfavourable for the survival of species from primary ecosystems. Agricultural areas are mainly developed at the expense of forests, heaths, valley meadows, marshes and bogs.
Birds are particularly affected by over-exploitation of species through uncontrolled hunting, especially of birds of prey, and their destruction has consequences for food chains. Migratory bird species are exposed to the greatest pressure, because they are affected by hunting during their whole migratory movement. Uncontrolled fishing – the use of explosives when other species are also killed, poison and non- standard fishing methods, including narrow diameter nets that also catch young fish which have not yet produced offspring – is also common.
The introduction of allochthonous flora and fauna species is especially noticeable in aquatic ecosystems. Specific fish species – including Californian trout and Silver carp bred for commercial use mainly in fishponds – have caused big changes in the composition of ichthyofauna by escaping into rivers and lakes, and in some aquatic ecosystems they dominate entirely, which implies that the biodiversity has been significantly reduced. There are examples: Vrazje Lake in Durmitor National Park and Zminje Lake in Sinjavina were stocked with Californian trout that have entirely destroyed the relic and endemic population of newt (Triturus alpestris).
Forest exploitation shows an upward trend in the amount of cutting for 2002-2006. The volume of timber cut in 2002 was 514 708m3, in 2006, 631 273m3, and in 2007, 540 333m3. The annual increase in commercial forests was estimated to be around 1.18 million m3, so it can be concluded that forest exploitation is sustainable if only documented data on commercial logging are considered.
National forestry policy states that cutting should not be bigger than two thirds of the annual increment, whereas it is estimated in the Physical Plan of Montenegro to 2020 that an annual potential volume of cutting in all forests could be around 800 000 m3. In addition, areas covered with forests have been increasing over recent years not only due to afforestation, but also because of natural regeneration and the abandonment of agricultural land. It is estimated that illegal cutting accounts for 200 000 m3 annually. On the other hand, Monstat records only 5 447 m3 of illegal cuttings for 2007. Cutting is not carried out in inaccessible regions, but mainly concentrated in so-called open forestry areas in which the volume of cuttings cannot be considered sustainable. The National Forestry Policy highlights the importance of sustainable cutting in the future and particularly stresses the need to take account aquifer/water areas, tourism development and recreational activities.
Taking of marine species has increased from an average of 470 t / year in the period 2002-2005, at 689 tons per year in 2007. The total annual consumption of all species of fish and cephalopods was higher in 2006. In previous years can be considered the result of increasing production in fish farming. Examination of the biomass and population dynamics of economically important fish species indicate that their populations have reached the point of over-fishing.
Data on changes in the number and structure of fish populations in Skadar Lake are also limited – detailed information and assessments of the state of fish stock have not been published since the 1980s. Assessments by fishing experts indicate that fish populations in the lake have been reduced due to an increase in pollution from inflows, illegal/uncontrolled fishing, a cessation of the migratory movement of sea species on Bojana river and a lack of measures to protect fish stock in the Albanian part of the lake.
Based on the number of boars (Sus scrofa) shot – more than 1 000 in 2007, nearly 25 % of the estimated population in the hunting grounds – current levels of hunting cannot be regarded as sustainable. Hunting is not organised properly, which results in concern due to threats to hunted, and other, species that exist in the 40 Montenegrin hunting grounds covering an area of 1 198 000 ha. Hunting organisations submit data to the Ministry of Agriculture, Forestry and Water Management, which are not independently verified, and many catches are not reported.
The 2020 outlook
Published: 26 Nov 2010 Modified: 22 Dec 2010
A large number of natural resources to which ecological processes are related, and for which biological diversity is a key component, provide human civilization with a wide range of benefits, goods, processes and services that have recently been called ecosystem services. They range from relatively simple, such as the provision of firewood, timber and pasture for livestock to very complex, such as the maintenance of aquifer stability, soil fertility and climate control.
Till now, there has been no important research on ecosystem services in Montenegro, or of the links between biodiversity and ecosystem services. Because of the potentially large economic value of these services, many international organizations such as IUCN and UNEP, advocate the use of market mechanisms and the introduction of payment for ecosystem services by their users. This has not been implemented in Montenegro – for example, the collection of costs for the maintenance of woodland areas that provides protection of watersheds and drinking water. Awareness of the values and the importance of ecosystem services for the benefit and wellbeing of people is low, both among the general public and among those who make important decisions related to the development and use of ecosystem services. That is why the real values of these services used by the public and private sector are underrated or not considered at all. This is especially true for the coastal areas where urbanisation and tourism development have led to the degradation of natural habitats and loss of some of the ecosystem services that these natural areas ensured, for example, coastal vegetation providing protection against erosion, landslides and floods. Besides, the loss of natural habitats and certain species diminishes the potential values, so far unknown, of ecosystem services such as plant species with pharmaceutical or medical value.
Taking into consideration the size of woodland areas that are regarded as a resource for the mitigation of climate change, the National Policy for the management of forests and woodland has recognised the possibility of ensuring financial support through carbon credits and global initiatives such as the scheme for the reduction of emissions from clearing and degradation and other measures within the Kyoto Protocol and post-Kyoto mechanisms.
With a view to overcoming the existing problems with and limitations to efficient functioning of the environmental protection system, protection of nature/biodiversity has been included in the system of national legislation since 1997. Environmental Impact Assessment is implemented as a new mechanism and an instrument for the implementation of the biodiversity/nature protection policy. Since 2008, the new Environmental Impact Assessment Law is being applied, as well as the Strategic Impact Assessment Law, which is of special importance in that it requires sustainability, environmental protection, and biodiversity preservation to be integrated in planning documents. A proper application of strategic and environmental impact assessments represents an important challenge for bodies and institutions of central and local authorities participating in procedures related to their application. It is especially important for cases when big interventions are planned, particularly big infrastructure and tourism/housing facilities that can endanger natural habitats that are, or are planned to be put, under protection. Obligations which will arise from applying EMERALD and Natura 2000 will improve the network of protected areas of nature by including all representative habitats and ecosystems.
A special challenge for the protection of biodiversity and natural values is to find a way to resolve conflicts between nature protection and development. In order to make development decisions sustainable in the long-term, it is necessary to include mechanisms for the assessment of impacts on biodiversity in resolving these conflicts. In other words, it is necessary to ensure a greater level of integration of knowledge about biodiversity and natural values into sectoral plans, programmes and strategies, and in case of unreliable or insufficient information to apply the precautionary principle.
Existing and planned responses
Published: 26 Nov 2010 Modified: 22 Dec 2010
The Convention on Biological Diversity (CBD) was adopted in Rio de Janeiro in 1992, and the Biological Safety Protocol, which has been enforced since 2003, has been signed by 147 countries out of which 103 have ratified it. The state union of Serbia and Montenegro ratified the Convention in 2003 and Montenegro inherited CBD membership when it became an independent country on 3 June 2006. Drafting of a National Biodiversity Strategy with an Action Plan is one of the primary obligations of all CBD contractual parties.
In accordance with the available organisational capacity, implementation of the following measures and activities in the next five-year period should ensure biological diversity protection and its sustainable use:
- Intensification of research which should enable the completion of scientific registries for flora and fauna that are a priority for the protection of biodiversity and its sustainable use and for the requirements of the EU integration processes – the network of Natura 2000 areas. In the area of diversity of flora, because of their importance for the identification Natura 2000 areas, the following will be implemented:
· Montenegro flora – a three year project (included in the National Strategy of Biodiversity);
· Montenegrin vegetation map – a five year project.
- In the area of bird diversity, because of its importance for protection areas on the basis of EU directives and Natura 2000, the following will be implemented:
· Bird Fauna of Montenegro as a one year project . (included in the National Strategy of Biodiversity).
- Review of the volume and increase in funds for needs of the biodiversity monitoring programme. Updating of the list of indicator species and areas in which the biological diversity is monitored will be ensured, in accordance with the identified pressures on biological diversity and the most endangered ecosystems .
- Making an itemised list and mapping of endemic and legally-protected plant and animal species distributions to enable the practical application of information on that component of biological diversity in other sectors.
- Identification and drafting of the National network of Natura 2000 areas to implement the protection of habitat types in accordance with the EU Habitat Directive and EU Bird Directive.
- Drafting of the National habitat classification catalogue, so that the diversity and specificity of habitats on the Montenegrin territory is highlighted, with which the key for homologisation of national types and the habitat classes into any European classification of habitats will be established (EMERALD, Natura 2000).
- By the end of 2010, the Red List for sea organisms and Red Lists for all taxonomic groups will be drafted, and the Red List for mountain flora by the end of 2012.
- Protection of new areas will be ensured by achieving the National Strategy of Sustanable Development of Montenegro established target that 10 % of state territory is protected, which is repeated in the Physical Plan of Montenegro.
The existing legal and institutional framework does not provide for a satisfactory level of efficiency in implementing nature and biodiversity protection measures. Apart from the insufficient level of enforcement of national regulations, there are also numerous obligations in international conventions and protocols that await adequate solutions.
References:
Environmental Policy in South-Eastern Europe, UNDP, 2007
The National Biodiversity Strategy, Ministry of Tourism and Environmental Protection, 2009
The National Sustainable Development Strategy, Ministry of Tourism and Environmental Protection, 2007
For references, please go to www.eea.europa.eu/soer or scan the QR code.
This briefing is part of the EEA's report The European Environment - State and Outlook 2015. The EEA is an official agency of the EU, tasked with providing information on Europe's environment.
PDF generated on 04 Mar 2015, 02:23 AM