Iceland
Country profile - Distinguishing factors (Iceland)
Geography
Iceland is an island lying between Greenland and Europe astride the Mid Atlantic Ridge. It is relatively isolated, as the shortest distances to the European continent are 970 km to Norway and 798 km to Scotland.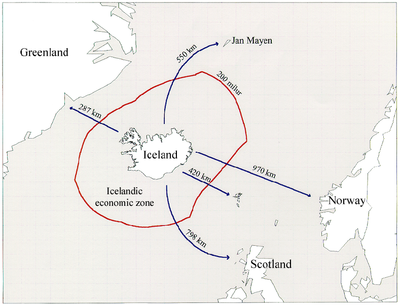 Figure 1 Distances between Iceland and other countries
Iceland is the second-largest island in Europe and the third largest in the Atlantic Ocean and its northernmost part is just south of the Arctic circle. It covers an area of approximately 103,000 km². The continental shelf up to a depth of 200 m is approximately 115,000 km², and the exclusive economic zone (EEZ) is approximately 758,000 km². This zone also constitutes Iceland's jurisdiction as regards pollution control. Land area below 200 m is 24 % and more than half the land area lies above 400 m above seas level. A vast part of Iceland is thus unpopulated central highlands. Almost 88 % of the total area is natural and semi- natural: heath lands 35 %, bare rocks 2 %, sparsely vegetated areas 13 % and glaciers just over 10 % (1).
Browse by topic
Search
For references, please go to www.eea.europa.eu/soer or scan the QR code.
This briefing is part of the EEA's report The European Environment - State and Outlook 2015. The EEA is an official agency of the EU, tasked with providing information on Europe's environment.
PDF generated on 04 Mar 2015, 08:11 PM