Waste - Drivers and pressures (Germany)
Common environmental theme
SOER Common environmental theme from Germany
Topic

Waste
more info

Organisation name

German Federal Environment Agency

Reporting country

Germany

Organisation website

Contact link

Last updated

23 Nov 2010

Content license

Content provider
Published
: 26 Nov 2010
Modified
: 13 Apr 2011
Feed synced
: 23 Nov 2010
original
Figures
Figure 5
None
Data source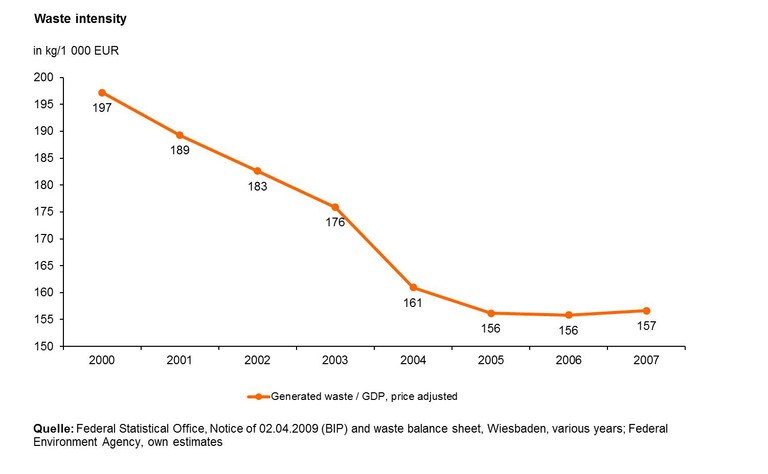 Fullscreen image
Original link
Waste intensity
Generated waste fell between 2000 and 2005 as economic performance improved, reflecting a considerable decrease in the waste intensity of the German economy. The net generated quantity of waste increased again in 2006 and 2007. Waste intensity stagnated accordingly and even increased slightly in 2007. This is mainly attributable to the increase in the quantity of building and demolition waste generated.
For references, please go to www.eea.europa.eu/soer or scan the QR code.
This briefing is part of the EEA's report The European Environment - State and Outlook 2015. The EEA is an official agency of the EU, tasked with providing information on Europe's environment.
PDF generated on 05 Mar 2015, 02:15 AM