Switzerland
Waste (Switzerland)
Why should we care about this issue
Topic

Waste
Published: 26 Nov 2010 Modified: 23 Nov 2010
In every country, waste is an issue of growing environmental and human health concern. Growing amounts of waste is a consequence of the growth of populations and economies. This leads to rising levels of production, consumption and construction activity, generating more and more waste. Not only municipal solid waste and construction waste quantities are rising, but also those of industrial and hazardous waste.
A well-working and sustainable waste management system has come to be regarded as a matter of course in Switzerland. Over the past years, a paradigm shift away from the reduction of individual waste streams and waste disposal towards environmentally sound recovery and recycling has been achieved. In 2000, Switzerland introduced a ban on the landfilling of combustible waste, and took steps to ensure that incineration capacity was expanded accordingly. Today, combustible waste is no longer landfilled in Switzerland (FOEN, 2008).
In an international comparison, Switzerland is among the countries achieving the highest rates of recovery and recycling. However, it is our commitment to future generations to further improve the efficiency of material and energy consumption and the environmentally sound treatment of waste targeting a sustainable raw materials and waste management.
The state and impacts
Published: 26 Nov 2010 Modified: 13 Apr 2011
Total waste arising has increased steadily since 1998. Growth has been around 12.5 % since 2002, from 17.2 million tonnes to 19.4 million tonnes in 2009. There has been an increase in all waste types, including construction waste, solid municipal waste, hazardous waste and sewage sludge. On the other hand, waste management in Switzerland has improved. Construction waste, totalling 12 million tonnes, is Switzerland's largest waste fraction. About 80 % of this fraction is recycled. Switzerland's municipal solid waste, the second largest fraction, amounted to 700 kg per person in 2009. No municipal solid waste was consigned to landfill in 2009. In 2009, 51 % of the total municipal waste was collected separately and recycled, compared to 45 % in 2000. With a recycling ratio of 95 % of glass, 91 % of aluminium, 84 % of tinplate, 88 % of paper and cardboard, 81 % of PET and 71 % of batteries. No doubt, Switzerland achieves very high recycling ratios. On the other hand there is a new challenge of growing importance to solve, the so called "litter", when items are being carelessly dropped or not picked up. The quantity of Swiss hazardous waste was about 1.8 million tonnes in that year. Approximately 0.5 million tonnes were incinerated, 0.7 million tonnes were consigned to surface landfill, 0.4 million tonnes were recycled and the rest was consigned to chemical-physical treatment. Besides the hazardous waste resulting from production processes a considerable part is due to environmental protection measurement such as waste treatment or remediation of contaminated sites. Switzerland has registered around 4000 polluted sites which in the short or long term pose a hazard to human health and the environment through the release of harmful substances. The remediation of these sites must be completed by 2025. The waste excavated from these sites and treated in appropriate facilities strongly affects the generation of hazardous waste as it contributes more than 40 % of the total amount.
Development of total waste arising in Switzerland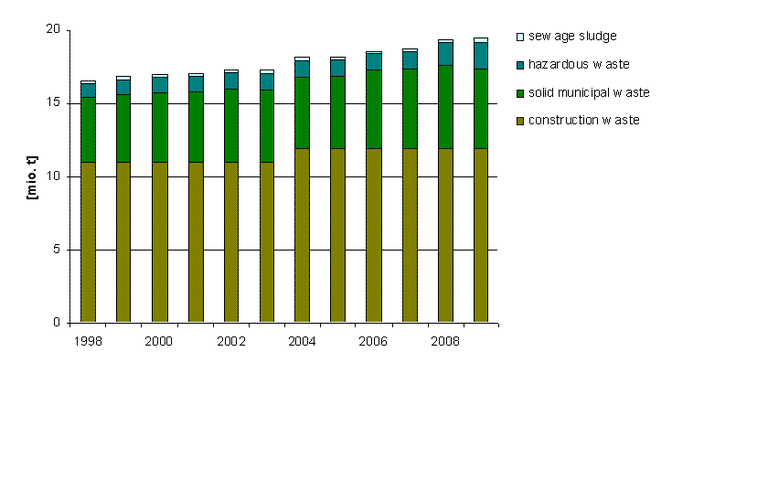 Development of recycling ratio of solid municipal waste per inhabitant in Switzerland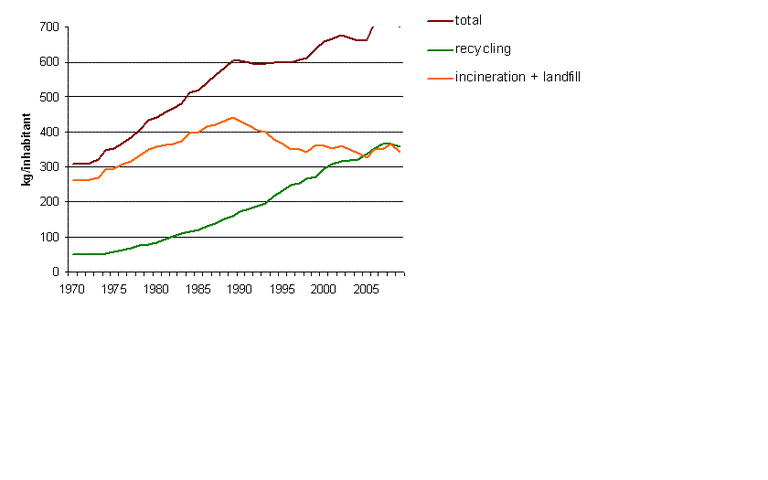 Swiss recycling ratios for different fractions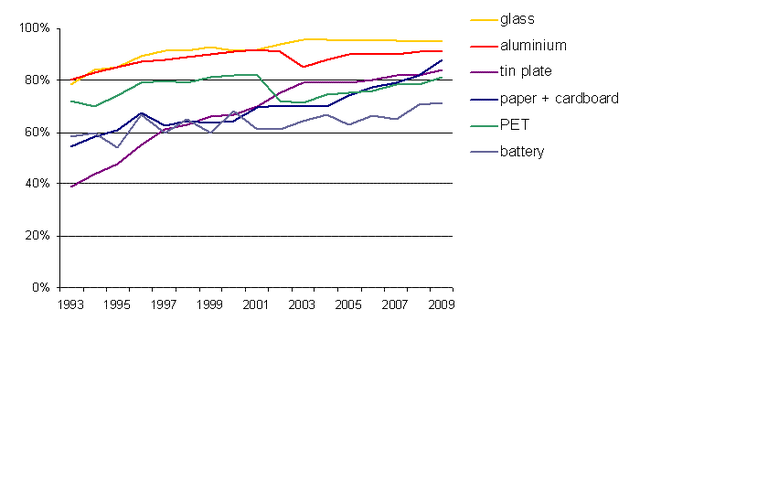 Development of hazardous waste management and hazardous waste from the remediation of contaminated sites in Switzerland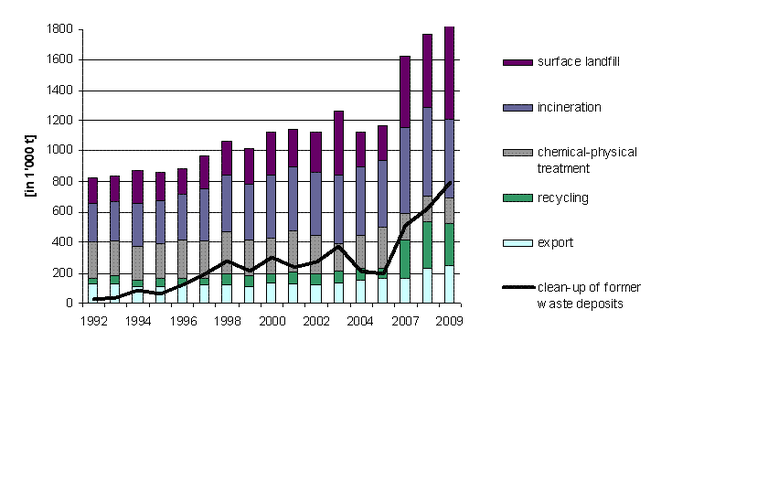 The key drivers and pressures
Published: 26 Nov 2010 Modified: 23 Nov 2010
Waste generation in Switzerland is increasing at rates similar to those of economic development and population growth. The increase in total waste generation per capita figured 21 % over the period from 1990 to 2008, compared to an increase in GNP per capita of 44 % over the same period. Statistics show how consumer behaviour is changing: between 1990 and 2008, the Swiss population increased by nearly 14 % in real terms and gross domestic product (GDP) rose by nearly 30 % in real terms. Over the same period, household total final consumption spending increased by 28 % in real terms. Between 1980 and 2000, the number of private households rose by 27 %. At the same time, average household size fell from 2.5 to 2.2 persons per household and living space per person rose from 34 to 44 square metres (FOEN/FSO, 2009).
Increases in industrial production, construction activity and consumption generally give rise to an increase in the production of hazardous waste. However, when contaminated sites are cleaned up for environmental reasons (for instance remediation of a landfill site), more hazardous waste will be produced, irrespective of the economic situation.
The 2020 outlook
Published: 26 Nov 2010 Modified: 23 Nov 2010
Developments in waste management are driven by population growth, economic development, and costs of raw materials, available technologies and legislation. Legislation on chemicals and development of industrial products will improve the recycling of materials. The process will be supported by increasing costs of raw materials and more efficient recycling technologies. Inefficient recovery and treatment of waste that is not environmentally sound must be prevented by waste legislation. The quality of waste to be landfilled must be improved in order to reduce the environmental impact. On the other hand new products and chemicals will be put on the market demanding for appropriate treatment technologies and regulations.
Existing and planned responses
Published: 26 Nov 2010 Modified: 23 Nov 2010
The environmentally sound disposal or recovery of growing waste streams will continue to be a concern for Switzerland. Investigations on the contaminated sites in Switzerland have shown the importance of the condition that only materials should be landfilled which do not pose a threat to the environment. The requirements for the landfill of waste were further substantiated by recent changes of the legislation. These changes will favour the treatment and recovery of waste (FOEN, 2009).
To continue to achieve substantial reductions in the environmental impacts generated by the enormous commodity flows, it will not suffice to engage in environmental optimisation that only tackles the end of the production chain. To achieve further environmental improvements, it will be essential to promote circular (closed-loop) economies. Conserving resources is only one part of efforts to achieve sustainable development; the entire lifecycles of goods and services need to be shaped so that they become more environmentally sound and socially equitable. This starts with resource extraction and goes on to include all relevant process stages such as processing, manufacture, product use and final disposal. Waste management is an issue of global concern. On one site, great importance is attached to the exchange of knowledge within the international community. And on the other side, the global enforcement network has to be strengthened to protect foreign countries against illegal waste imports.
References:
FOEN 2008: Federal Office for the Environment (FOEN), Abfallwirtschaftbericht 2008, Zahlen und Entwicklungen der schweizerischen Abfallwirtschaft 2005-2007, State of the Environment 30/08, Bern, 2008.
FOEN 2009: Federal Office for the Environment (FOEN), Raw materials from waste, «environment» Magazine No. 3/2009, Bern, 2009.
FOEN/FSO 2009: Federal Office for the Environment (FOEN), Federal Statistical Office (FSO), Environment Switzerland 2009, Bern/Neuchâtel, 2009.
For references, please go to www.eea.europa.eu/soer or scan the QR code.
This briefing is part of the EEA's report The European Environment - State and Outlook 2015. The EEA is an official agency of the EU, tasked with providing information on Europe's environment.
PDF generated on 07 Mar 2015, 06:29 AM