Okoljski signali 2002 [Povzetek]
Publikacija
Ustvarjeno 13.05.2002
Objavljeno 13.05.2002
Opomba: nove različice so na voljo!
Environmental assessment report No 9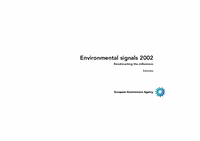 Objavil
EEA (European Environment Agency)
Objavljeno: 13.05.2002
Vsebina
For references, please go to www.eea.europa.eu/soer or scan the QR code.
This briefing is part of the EEA's report The European Environment - State and Outlook 2015. The EEA is an official agency of the EU, tasked with providing information on Europe's environment.
PDF generated on 30.11.2015 09:07