Trends and projections in Europe 2015 — Tracking progress towards Europe's climate and energy targets
Publication
Created 15 Oct 2015
Published 20 Oct 2015
EEA Report No 4/2015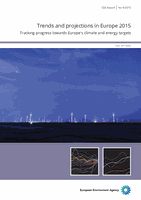 The 2015 edition of the annual European Environment Agency (EEA) 'Trends and projections' report provides an updated assessment of the progress of the European Union (EU) and European countries towards their climate mitigation and energy targets. The assessment of Member States' progress towards their climate and energy targets is based on: national data on GHG emissions, renewable energy and energy consumption for 2013; and projections reported by Member States concerning expected trends in greenhouse gas emissions until 2035. The report also presents preliminary ('approximated' or 'proxy') data for the year 2014. The report supports and complements the annual assessment, by the European Commission, of the progress of the EU and its Member States towards meeting the Kyoto and EU 2020 objectives, as required by EU regulation (the Monitoring Mechanism Regulation).
Content
For references, please go to www.eea.europa.eu/soer or scan the QR code.
This briefing is part of the EEA's report The European Environment - State and Outlook 2015. The EEA is an official agency of the EU, tasked with providing information on Europe's environment.
PDF generated on 27 Oct 2016, 02:10 AM