Particulate matter from natural sources and related reporting under the EU Air Quality Directive in 2008 and 2009
Publication
Created 06 Jul 2012
Published 10 Jul 2012
Technical report No 10/2012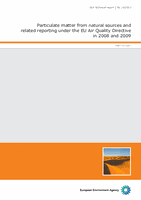 Much of the air pollution that damages human health and the environment today is the result of human activities. But natural sources also emit air pollutants, contributing to the exposure of European citizens and ecosystems to bad air quality " and potentially undermining EU Member State efforts to meet the air quality standards set out in EU legislation.
Content
For references, please go to www.eea.europa.eu/soer or scan the QR code.
This briefing is part of the EEA's report The European Environment - State and Outlook 2015. The EEA is an official agency of the EU, tasked with providing information on Europe's environment.
PDF generated on 26 Oct 2016, 04:06 PM