European Union emission inventory report 1990–2012 under the UNECE Convention on Long-range Transboundary Air Pollution (LRTAP)
Publication
Created 27 Jun 2014
Published 30 Jun 2014
Note: new versions are available!
Technical report No 12/2014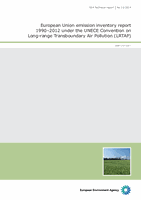 This document is the annual European Union (EU) emission inventory report under the United Nations Economic Commission for Europe (UNECE) Convention on Long-range Transboundary Air Pollution (LRTAP) (UNECE, 1979). The report and its accompanying data are provided as an official submission to the Executive Secretary of UNECE by the European Commission on behalf of the EU as a party. The report is compiled by the European Environment Agency (EEA) in cooperation with the EU Member States.
Content
Dynamic
Temporal coverage
1990-2012
For references, please go to www.eea.europa.eu/soer or scan the QR code.
This briefing is part of the EEA's report The European Environment - State and Outlook 2015. The EEA is an official agency of the EU, tasked with providing information on Europe's environment.
PDF generated on 28 Oct 2016, 05:14 AM