Knowledge base for Forward-Looking Information and Services (FLIS)
Publication
Created 31 Mar 2011
Published 01 Apr 2011
Brochure No 1/2011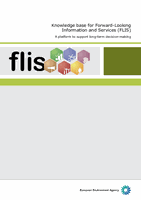 Knowledge base for Forward-looking information and services (FLIS) is a platform to support long-term decision-making. The aim of FLIS is to introduce forward-looking components and perspectives into existing environmental information systems and to expand the knowledge base and its use.
Content
 
General information on Knowledge base for forward-looking information and services (FLIS) is also available on the EnviroWindows portal.
FLIS currently has six components, but in the future, additional components may be added, as for example horizon scanning and early warning signalling. Here are the six components of FLIS, with examples of information generated so far:
Components of FLIS
  Drivers and trends
  Indicator
  Scenarios
  Methods and tools
  Networking, capacity-building and governance
  Use of forward-looking information
For references, please go to www.eea.europa.eu/soer or scan the QR code.
This briefing is part of the EEA's report The European Environment - State and Outlook 2015. The EEA is an official agency of the EU, tasked with providing information on Europe's environment.
PDF generated on 26 Oct 2016, 10:17 PM